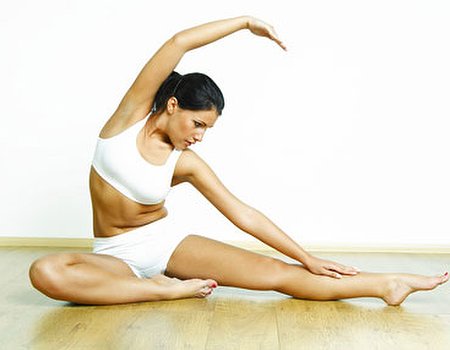 Get fit for summer on a shoestring: Jason Scott, personal trainer at Powertone Studios in Fulham, gives us his top ten tips for exercising your way to a better beach body.
Jason says, "Do each exercise 10 times, for two sets. You can build on this over time by adding another set of 10 once you feel confident."
1.Think of food in a different way! Baked bean bicep curls Alternate lifting two baked bean cans (hold arms down by the side of your body, lift by bending at the elbow to chest level) Anything can be used as a substitute gym weight – as long as it's a suitable weight for you to lift. When your arms get stronger, try filling a large drinks bottle with water for more resistance
2. Before you eat the beans, use them to get your shoulders in shape too Stand in your living room, with a baked bean can in each hand, down by your side. Raise each arm simultaneously out to the side (keeping them straight) until shoulder height. Hold for five seconds, then down. Try holding for 10 seconds each time when more confident
3. Get comfortable: sofa tricep dips Use a chair or sofa to get those triceps toned – and to balance out your bicep work Sit on the edge of a chair/sofa and, resting your hands level with your buttocks on the seat, slowly lower your body down towards the floor and back up again (so you're hovering – not resting back on the sofa). Keep a straight back.
4. Beat the cellulite with simple squatting Position yourself in the middle of your living room and, with your legs wide apart, squat down towards the floor Start with a shallow squat and, with experience, begin to take the squat deeper. Hold the squat for 10 seconds to really feel those muscles work
5. Going upstairs Make the most of all those trips up and downstairs by doing step-ups at the bottom Step your left foot up onto the first step, then follow with the right. Move the left foot back, then the right Speed up for a more cardio workout
6. Kitchen workout Use the kitchen worktop or a wall to do some press ups – just as effective as pushing up from the floor but slightly more graceful Start with hands just beyond shoulder width apart, move further apart when more experienced. Ensure you keep your back as straight as possible
7.You don't have to be on a gym floor to get those abs toned! Set yourself a steady goal and increase the number of stomach crunches you do each week Remember to pull yourself up only slightly from the floor – and use your stomach muscles, not your neck! It can help to raise your legs and cross them to keep them steady whilst crunching
8. When walking in the park, use your surroundings Use benches for tricep dips, squats and press ups – they're also great for stretching and improving your flexibility
9. Set yourself land marks Run between benches, then walk between them, lengthen your stride to the next bench, then power walk to the next (really swinging those arms) Or you can walk – jog – run at 30 - 60 second intervals
10. And for those want to see how well much you are improving but can't afford a gym membership… Consider investing in a heart rate monitor watch – it will monitor your progress, tell you how many calories you're burning at one time and will let you know your heart rate. You can even set it to help you achieve your training goals. Simple, effective and inexpensive.
For sports equipment to help your shape up for summer, visit [1]