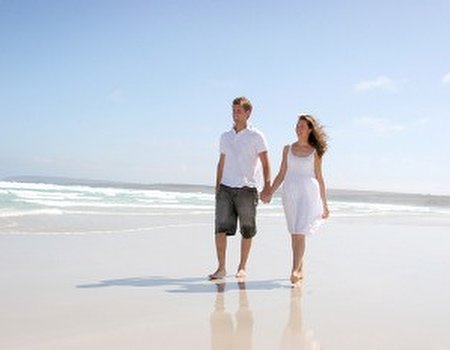 Being in love with a Toxic Man Child is fun, frustrating and too often, ultimately heart breaking.
Robbie Williams, our favourite TMC has apparently overcome many of his personal demons to grow up a little and marry the lovely Ayda Field. Having been together for four tumultuous years (TMC years are equivalent to 3 non-TMC years in terms of emotional energy required to survive) Robbie, at 37, is now saying "I am too selfish to have children and am putting it off as long as I can!" Our needy TMC doesn't want to give up his sole recipient status when it comes to Ayda's love and attention.
Your TMC relishes that you are his lover (and TMCs make great lovers!) but he also has a way of bringing out the gentle, nurturing mother-love you thought you would hold exclusively for your children. In short, he makes you feel needed!
If in doubt, how many of these five check points does your man tick? Know for sure whether you are involved with a TMC:
He's 30+ and still spends hours on his Playstation and other boys toys. You hear yourself nagging for his attention, when you start sounding like his Mother it's time to sit up and take notice!
You have great fun together, he's full of surprises but when it comes to making a serious commitment to your relationship, he just can't do it! You are starting to think this is about you – it's not!
He's gorgeous, a free spirit, cheeky and so sexy – and the thought of never having another woman, cutting off his play options, leaves him cold!
Nobody brings the same smile to your face, he just has this, well…this way about him – An irresistable giant toddler, who creates mess and bedlam wherever he goes!
Despite his outer confidence, his wicked smile and being one of the lads, there is a little boy quality about him, demanding to be taken care of. At times it's exhausting but you simply cannot resist the way he needs you!
Simply irresistable – The TMC offers fun, laughter, love and vulnerability – a powerful concoction. When he throws his toys out of his pram and refuses to stay on the naughty step – you are in trouble. This man can run rings around you, often using his vulnerability and your love to work against you, leaving you confused and unsure about who you are, your relationship and your future.
If you have a history of attracting and falling in love with enticing TMCs, it's time to understand why you are attracting the type of men you do and learn how to change your relationship patterns for good.
Or maybe you love loving TMCs, would have it no other way but would like some 'Super Nanny' tricks up your sleeve in order to manage your relationship in a healthy and more balanced way. Because let's face it, when you're involved with a loveable TMC you are going to need all the help you can get when it comes to staying on track.
Conscious awareness let's you see for yourself those old patterns you have been running – prepare to be surprised by what you find and how, within one session you will see clearly how easy it is to change those patterns you want to leave behind. Neuro Conditioning is a powerful tool that allows you to step into new behaviours and attract different results to those you have known before. We ultimately get what we truly think we deserve, look around you and decide for yourself if you deserve more?
Contact me today and find out how this life changing coaching program could work for you from session one.