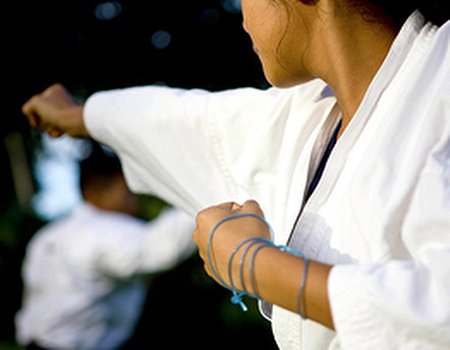 If your fitness resolutions need a kick in the butt to keep them going, Shaolin Kung Fu could be for you. Far from the Karate Kid stereotype, martial arts are for all ages and fitness levels. First practised in China, this ancient martial art isn't just for self defence - its combination of strength and endurance training teach mental and physical control as well as building muscle and core strength. We set off to the Nam Pai Chuan school in Chiswick to see if we too could become more zen, less Kung Fu Panda.
The venue
Classes take place in Chiswick Community School, easily accessed by public transport. On the day of our visit kids and adults of all ages were filing in and out of a variety of classes, but the separate halls and friendly tutors made it easy to find the right place. The Shaolin Kung Fu class itself was housed in a huge sports hall so we never felt overcrowded or cramped.
The class
Nam Pai Chuan's tutors employ traditional training methods which have been used for centuries to teach Kung Fu to Shaolin monks, alongside more modern methods to help students learn self-defence . The aim of the game is to 'help our students to get away from the pressures and distractions of modern life and develop mental and physical strength whilst learning a traditional yet relevant Chinese martial art'.
The class began with a warm up to get those muscles moving, followed by core strength exercises. Although these exercises weren't easy, the friendly students and helpful teachers meant that we never felt out of our depth. After our warm up, we learned some pad work, trying out punches and kicks with a partner. As well as being great fun, you could really feel the coordination and strength needed to master these moves (not something we at Wahanda had…yet…)
Next the students formed lines and followed a routine of movements, mirroring the teacher. At first these seemed a little fast paced, but we soon picked up the basics. To finish off, we joined in a game of dodgeball - a fun way to warm down and have a giggle after all that exercise.
The result
The class was challenging yet extremely accessible. We could really feel our muscles working and can imagine that Shaolin Kung Fu would be an ideal way to whip that body into shape whilst learning valuable self defense skills. With new classes now open in Brixton, we're very tempted to give this marvellous martial art another go…..