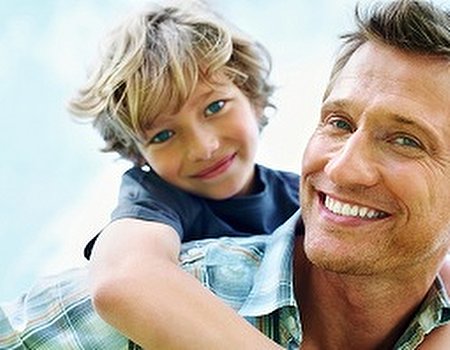 If your old man's been 'Daddy Cool' lately, show him your appreciation with a special Wahanda treat this Father's Day (June 19th). Perhaps you want to pamper your 'Father's Eyes'? Maybe 'Papa Was a Rolling Stone' and could do with a spa day pit-stop? Whatever his persona, we've got something to suit even the preppiest padre.
Being a fantastic father is hard work, so perhaps you'd like to treat your 'Father's Hands' this year? Manicures aren't just for mums, these days manly men care for their cuticles and have their fingernails filed for a nicely neat look. Nickel Spa in convenient Covent Garden was created by a man, for men, and does a magnificently masculine manicure. They also provide facials, massage and waxing services for the more groomed gentleman. All products at Nickel are specifically tailored to suit male skins- and not a floral scent in sight.
If you have a 'Grey Haired Daddy', send him to an authentic barber's shop for a brilliantly blokey gift that won't break the bank. Cleo's Barbers in Spitalfields is terrific for a trendy father or if a wet shave is more his thing, try Royal College Barber for the traditional treatment.
If you're not keen to 'Dance With Your Father' for fear of broken toes, perhaps some daddy dance lessons are what you need. City Academy is fantastically located in central London and currently offer 20% off eight week flamenco classes. A perfect way to spent some father-daughter time together, and have a great giggle, he'll be stamping everywhere *but* your feet in no time.
We at Wahanda know how important it is to spoil our dads at least once a year. If these ideas don't tickle your fancy, check out our special Father's Day page. It contains loads more ideas for really pampering you papa without blowing the budget.