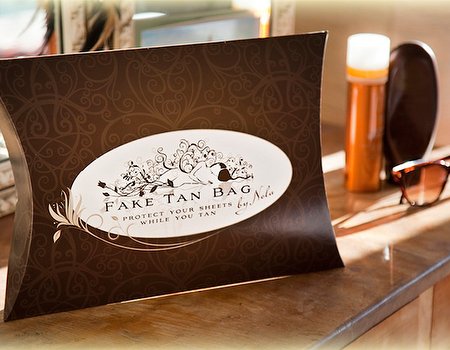 We at Wahanda know that your skin is important to you. Everyone wants a golden glow but why risk wrinkles or chance cancer when we can fake it 'till we make it with sensational sunless tanning products?
Bronzed beauty is always in fashion, making us appear healthier and even slimmer, but application can messy. In a recent survey 81% of fake tan users rated tell-tale tanning scent on their bedsheets as the number one downside of going safe and sunless. A further 71% of the dark skinned divas surveyed listed sheet stains as their number two tanning trouble.
But milky-skinned mopers need fret no more. A flash of tantastic inspiration has turned our fake tanning nightmares into sweet dreams with a blissful bedtime beauty buy. Fake Tan Bag is a simple solution to all of our tanning woes. A 100% cotton 'sleeping bag' - light enough for the summer months or perfect for slipping under a duvet when the nights draw in- Fake Tan Bag neatly contains any chemical odours or sneaky stains, saving your sheets.
Nola Kinnear, Founder and MD of Fake Tan Bag says of the super sack "I am a fair skinned Irish woman who has never, ever achieved a natural tan from the sun and I never will. The discovery of fake tan has been wonderful for me as I can be more adventurous with my clothing, feel confident on special occasions and look healthier. The only thing that bothered me was the smell and stains of Fake Tan products left behind on the bed sheets but Fake Tan Bag has taken my only tanning annoyance away!"
So what are you waiting for my porcelain painted pretties? Grab a Fake Tan Bag and look 'faux'bulous without bronzing your bedlinen.
For more tan-telising treatments check out our sensationally sunless deals or follow us on Facebook and Twitter.