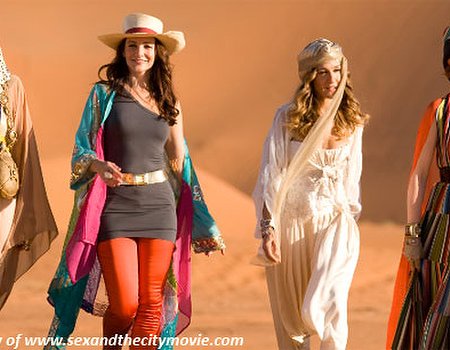 As you will probably be aware if you've been near a television, radio, computer or another human being in the last six months, the eagerly anticipated Sex and the City sequel is hitting our screens on the 28th, and we at Wahanda are getting very excited. Everyone has had the 'which one are you' conversation (dangerous territory if you have a 'Miranda' friend who thinks she's a 'Carrie'...) and the main reason we're all so desperate to imitate the SATC cast has got to be their glowing good looks, with not a flaw in sight despite late nights and endless cosmopolitans. Jealous, us?
Many of us mere mortals struggle to remember a six-weekly hair appointment, but luckily there are some great treatments and classes out there to help us emulate the groomed gorgeousness of our favourite stars. Whichever Sex and the City character you envy, pick your favourite and get pampered to perfection movie-style…
Carrie
Carrie is known for her kooky style and incredible shoes but those Jimmy Choos must take their toll on her poor feet. Follow in her well-heeled footsteps and treat yourself to a pedicure to keep those tootsies twinkling.
Miranda
Miranda's a high flying career woman and mother, so she probably finds it difficult to fit in the 'me time' she needs to keep fit and trim. Instead of trying to keep up with time consuming gym visits, we think she'd love power-plate, a class which claims to give as much of a work out in fifteen minutes as your average gym session does in an hour.
Samantha
Samantha is known for being a bit of a cougar, and with hot younger men like Smith in tow, she needs to keep up appearances. Perhaps she should book herself a non-surgical micro-current facelift to supercharge those cells and give her complexion a youthful glow.
Charlotte
Charlotte's conservative, 50's style is adorable and her hair is always blow-dried to perfection. Save yourself valuable styling and pamper instead with a Brazilian permanent or semi-permanent blow dry, ensuring that you look your best no matter how many times you press 'snooze' on your alarm.
Big
Some of us love Mr Big and some of us hate him for his philandering ways. One thing we all agree on though is that with those bushy brows, perhaps a little threading is in order to quickly and (almost) painlessly remove those strays. The caterpillar look is so last season guys.
Stanford
Finally, the lovely Stanford Blatch may be somewhat lacking in the hair department but he always has beautiful skin. Don't be afraid to invest in a facial, boys, especially now that there are so many treatments and spa experiences aimed specifically at male grooming. It's 2010 and all the men are at it – so don't be shy.