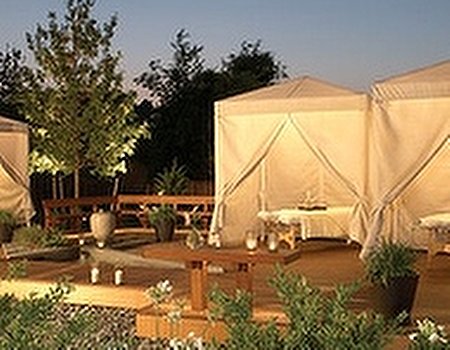 Bali Spa, Radisson SAS Hotel, Bucharest by Glen Mutel
Where is it? Located in the heart of the downtown area of Bucharest in Romania
About: The Bali Spa feels a bit hidden away, down a corridor, and is quite small, with a simple reception room and a series of petite treatment rooms with showers. However, ultimately, the most important aspect of any spa is the quality of the treatment, and on this front, the Bali Spa scores extremely high.
Treatment tested: I opted for an hour-long Balinese massage. I always feel that the best masseuses are those who aren't afraid to deviate slightly from the script, and mine did this superbly, spending extra time on the areas that were in need of attention. She was also intuitive, working out without being told that certain parts of my back were more sensitive than others, and that a mixed use of pressure was called for. The results were exceptional.
On the menu: Massages, aromatherapy, beauty treatments, advanced facial and body care, laser treatments. Signature treatment: The Balinese massage (from £42 for 60 minutes).
Cost: Rooms from £102 per night in low season.
Verdict: 8/10
Chatham Bars Inn, Cape Cod, USA by Katie Reich-Storer
Where is it? Chatham is location on the elbow of Cape Cod in Massachusets.
About: As I opened the door to our suite, I was gobsmacked. First off, the room was huge but beyond that, the fixtures and fittings were out of this world. The open-plan room and bathroom came complete with bed and lounge area, with a huge flat-screen TV on one side and a double headed steam shower, sauna, whirlpool bath and double sink area on the other, divided by a fireplace that lit up at the flick of a switch! I managed to pull myself away to head to the spa. Although the sun was out, it was cold so the outdoor swimming pool and whirlpool couldn't tempt me in. Instead, I opted for a couple of treatments in the warmth of the spa.
Treatments tested: I had chosen the signature massage using smooth seashells, beach stones and oil to pound away the stresses and strains — bliss! I felt so relaxed I fell asleep — something I rarely do during a massage. I followed this with a fantastic Time Return Anti-Ageing Facial focusing on firming and toning the skin to promote cell renewal, leaving my skin smooth and glowing.
On the menu: Facials, massages, scrubs, wraps, skin care enhancements, eye treatments, waxing, manicures and pedicures. The spa also offers special bridal make-up packages and wedding party make-up.
Signature treatment: CBI Signature Massage using shells, stones and laminaria oil to improve circulation.
Cost: The Leading Hotels of the World offers stays at Chatham Bars Inn from $195 (£131) per room per night based on two sharing a Deluxe Cottage room.
Verdict: 10/10
Boston Harbor Hotel by Katie Reich-Storer
Where is it? Boston Harbor Hotel's location is second to none. My luxurious harbour view suite was fantastic —a huge room with separate lounge area and a balcony overlooking the water, so I could watch the sun coming up over Boston.
About: The hotel's spa was a real oasis. Located in the basement, it had a cosy and welcoming feel — not too sterile as some hotel spas can be. A friendly welcome was followed by a quick show around of the facilities, including a lovely indoor swimming pool, before I donned the obligatory fluffy robe and slippers to await my treatment.
Treatments tested: I was having a hot stone massage — perfect to relax and unwind after the eight-hour flight from the UK. My therapist was skilled and I was left with a lovely warming feeling. The only criticism I have is that as I was the last treatment of the day, my therapist seemed keen to get home, so it felt a little rushed although still enjoyable.
On the menu: Massages, facials, body treatments, manicure and pedicure
Signature treatment: Harbor Stone Massage using heated smooth harbor stones covered in oil to give a deep, penetrating massage.
Cost: From £191 in January.
Verdict: 9/10
Hotel Le Palais, Prague by Lesley Hopwood – CUSTOMER REVIEW
Where is it? The hotel is located in an exclusive residential area of Prague, close to the famous Wenceslas Square and the National Museum.
About: The hotel has preserved many of its original features from its days as a private palace and blended these into a modern, efficient and stylish hotel. The health club, which is available to all guests, has a fitness centre, aroma showers and sauna, as well as an extremely good steam room. In addition, there's a large powerful whirlpool, one of the best I've ever tried — I could feel it toning my body all over.
Treatments tested: At the Pure Spa, I had a St Barth Slimness — a soothing leg massage. I found it so relaxing after a busy day of sightseeing in Prague and would recommend one every evening!
On the menu: The spa uses St Barth products and offers an extensive menu, including facials, peelings, body masks and hot stone massage.
Signature treatment: Pure Spa Couple Treatment Experience.
Cost: From €180 (£145) per night in a Deluxe Room in January including breakfast.
Verdict: 10/10