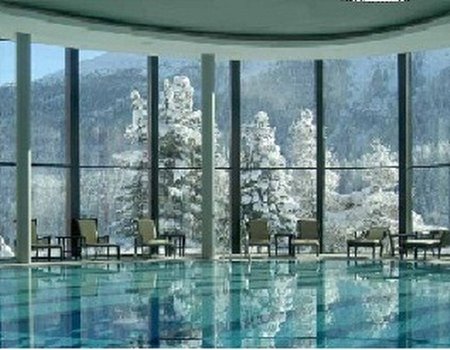 Jo Gardner seeks out the world's coolest cities, retreats, hotels and spas .
1. The airport: Jo Malone, Gatwick Airport Jo Malone has opened a white-clad shop at Gatwick airport selling perfumes, candles and body creams in the signature cream box with black ribbon. www.jomalone.co.uk
2. The Luxury Boot Camp: New You, Portugal Not keen on traditional boot camps with their bunk beds, 5am runs and instructors dressed in army gear? Then try New You boot camps, which are getting a makeover with water activities and relaxation weaved into programmes. Guests staying at the camp in the Portuguese village of Carvoeiro will also be able to enjoy spa treatments at the end of the day. www.essentialescapes.com
3. The Taster: Grayshott Spa, Surrey, UK If you're not sure whether you're cut out for the full works when it comes to a spa break, then why not try a taster at Surrey's Grayshott Spa? With weekends from £169, including full-board accommodation, a 25-minute spa treatment of choice and use of the indoor swimming pool, tennis courts, golf course and exercise classes, it's the perfect 'sink or swim' for all wary spa goers. www.grayshottspa.com
4. The Wellness Space: Badrutt's Palace Hotel, St Moritz, Switzerland Staying near glistening Lake St moritz sounds relaxing enough, but after a week in the Palace Wellness Space, you're likely to be catatonic. Newly refurbished, the space is ideal for some post-skiing pampering. It features 10 new treatment rooms, hair spa, Pedi spa, solarium, facial room and four body-treatment rooms. www.badruttspalace.com
5. The Birthday Girl: Elemis Beauty products goddess elemis turned 20 recently at a star-studded event in London. Guests drank pink Champagne and ate delicately decorated cupcakes. The company used the event to launch products such as a skin nourishing Milk Bath. www.elemis.comtravel
6. The Urban Spa: Six Senses, Paris Ahh, Paris. The sights, the sounds, the city — you can t help but fall for its charms. And now you've another reason to love it, following the opening of the Six Senses Spa Rue de Castiglione in the city centre. Adopting a philosophy of choosing the 'slow life', treatments include detoxifying facials designed for the stressed-out urbanite, Asian-inspired massages and treatments from visiting holistic practitioners. www.sixsenses.com
7. The spa pass: Von Essen With nine luxury spa properties dotted around the Uk, Von essen hotels has launched Spa as you Go vouchers. Perfect as a gift, or just to treat yourself, the vouchers start at £550 for six visits, rising to £950 for 12. They include unlimited use of spa facilities, a two-course lunch and either a one-hour facial or a one-hour massage. www.vonessentials.com
8. The New One: MiraSpa, Hong Kong The new MiraSpa at the Mira Hong Kong hotel has an infinity pool, nail bar, nine treatment areas — including two suites for couples, each with a whirlpool bath and vanity area — a flotation lounge and a bar serving healthy drinks. Treatments on offer include a Fire and Water body-balancing ritual, while the spa is the only one in Hong Kong to use nutrient-rich products by elemental herbology. www.summithotels.com
9. The Rebrand: Centara Grand Island Resort & Spa, Maldives Among spa Cenvaree's treatments are aloe vera and red rice to soothe sunburnt skin, hot-oil aroma massages with acupressure and Jurlique anti-ageing facials. The spa has 11 therapy rooms, a Vichy shower, wet treatment room, manicure and pedicure salon, hair and make-up services, and outdoor relaxation lounges. www.centarahotels.com
10. The Day Spa: Neal's Yard, Kings Roadorganic is all the rage and Neal's Yard's flagship store on the kings Road is London's first organic day spa. It offers signature facials, body, hand and foot treatments, and specialist men's treatments.a 90-minute Frankincense and White Tea Rejuvenating Facial is the ultimate anti-ageing treatment designed to regenerate and firm skin. www.nealsyardremedies.com
11. The Refurb: K West Hotel & Spa, London Launched on Valentine's Day, K West's £2 million refurb sets it apart from London's other hotel-based spas. As well as the city's first 'snow paradise' — a Finnish experience that invites guests to 'freeze' their way to good health —K Spa also has a floating glass reception desk, a mood-enhancing waiting area, a hydrotherapy pool. Thai massage room and a dry flotation tank. a wet spa area also features built-in wall loungers that allow couples to face one another. www.k-west.co.uk
12. The one in KL: The Spa And Med Beauty The Spa and med Beauty at The Saujana in malaysia's capital, Kuala Lumpur, is so exclusive that it has its own branding and website. Located in tropical rainforest around a shimmering pool, the spa features six single-spa villas, two double-spa villas, two beauty studios, a relaxation lounge and spa boutique. Med Beauty Treatments include oriental and asian rituals, as well as Romantic Bathing Ceremonies and Nurturing envelopment Rituals. K West's new 'snow paradise' invites guests to 'freeze' their way to health. The spa uses plant stem cells to protect and stimulate skin. www.spaandmedbeauty.com
13. The Journey: Le Meridien, Cyprus If it's in Cyprus, it's bound to include thalassotherapy — in this instance, provided by no-less-than Thalgo – but Lemeridien's 32,000 sq ft offering also has seven (yes, seven) indoor-outdoor seawater pools. Treatments include a four-hand massage and the signature Journey of the Senses, which is a hot-stone massage followed by a body wrap. www.lemeridienlimassol.com
14. The Cool Spa: Sri Panwa Phuket, Thailand Designed in tranquil azure blue, the all-suite accommodation's new spa offering is set in a secluded rainforest, with the sight and sounds of waterfalls ensuring even the most highly strung of guests will find serenity. Six private treatment rooms have their own Jacuzzis under thatched roofs, while products are made from locally sourced mango, papaya, coconut and honey. www.sripanwa.com
15. The Fragrance: Beyonce Heat Beyonce is the latest celebrity to jump on the fragrance bandwagon. The star hopes Beyonce heat will send wearers crazy in love.
16. The Expansion: Hilton Maldives The hilton family has expanded with two properties in the maldives: the hilton maldives Iru Fushi Resort & Spa and the Beach house. Both have been upgraded; the latter reopening on 1 march. www.hilton.com