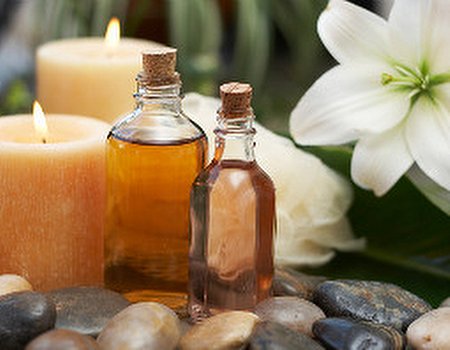 We review the best spas to make your autumn escape in the UK and beyond.
Bishopstrow House & Spa, Wiltshire, UK
by Nicóla Brookes
If you like country houses with a stylish modern sheen, Bishopstrow may be for you. This luxury 18th-century hotel has retained its traditional country house furnishings — open fireplaces, roll-top bathtubs, antiques, cosy couches — and recently added a new spa and contemporary restaurant with floor-to-ceiling windows and sleek modern furnishings.
I stayed in an spacious two-storey suite in converted stables adjacent to the Halcyon Spa, with easy access to the indoor pool, whirlpool, rasul, sauna, steam room and rain-mood shower. My Elemis deep tissue massage was good, the therapist asking the right questions and finding all the tight spots.
There's a nice chill-out area where you can relax after your treatment and drink healthy tea, but if the weather is good you can head outside to the lawn terrace, where you can enjoy champagne cream tea with all the trimmings and calories.
While this is the perfect place for a romantic rendezvous, children and adults in tow will enjoy taking dips in the outdoor pool and playing tennis on the indoor or outdoor courts. Longleat House and Safari Park is also nearby for those who want to take a walk on the wild side.
In the know...
On the menu: Facials and a range of body treatments, including wraps, exfoliation and massages, using Elemis.
Signature treatment: Halcyon Spa face, back and scalp treatment, which includes a back massage, Elemis Taster facial and luxurious scalp massage.
Cost: From £90 for 85 minutes.
Verdict: 8/10
bishopstrow.co.uk
K West Hotel & Spa, London, UK
by Glen Mutel
The K-West comes as a complete surprise, its glass and steel facade emerging suddenly on a residential street in Shepherd's Bush. In its depths sits the K Spa, the product of a recent £2 million investment.
The bright and immaculate reception area made a good first impression, contrasting pleasantly with the soothing shades of the treatment room. I was here for a C-Plus Energy Facial, designed to reinvigorate male skin worn down by pollution, stress and shaving.
Facials always make me sleepy, and this one was no exception. An exfoliating gel mask was followed by a detoxifying serum. For the massage, a mineral-rich cream was worked into my skin. Everything became hazy after this, and I scarcely remember the detox mask being applied.
Afterwards, I retired to the excellent facilities room, complete with hydrotherapy pool, foot spas and face-to-face seating. I opted for the sauna and herbal steam room, cooling myself down in Snow Paradise — a chamber full of real snow and a fine alternative to a cold shower.
The following morning, my skin looked and felt fresher. The only downside's the price: guests are charged £25 each (£40 for couples) to use the spa facilities, which is a little steep.
In the know...
On the menu: A range of massages, facials, body and beauty treatments using products from the likes of Germaine de Capuccini, ESPA, YTSARA and Crystal Clear.
Signature treatment: C-Plus Energy Facial for Men.
Cost: £75.
Verdict: 8/10
k-west.co.uk
Atrium Spa, Posthotel Resort & Spa Achenkirch, Tyrol, Austria
by Annabelle Hood
What do you get if you mix high-calibre treatments and facilities, elegant decor, family-run warmth, chirpy staff, free daily activities, wholesome food and a picture-perfect alpine setting? Something close to this Tyrolean secret's charms. An hour's drive from Innsbruck, Posthotel attracts repeat guests from all over the world.
The Atrium Spa was light, pretty and peaceful, offering an impressive list of treatments, from St Barths products to Tyrolean rock oil. Austrians have no qualms about stripping off, and in the mystical Sunken Temple spa, birthday suits are obligatory. This amazing underground labyrinth houses a Chinese-styled sauna with serpents spitting steam and a circular, blue-lit solarium with private relaxation pods.
Within the hour I was planning my return: three days didn't feel long enough to sample the indoor and outdoor thalasso pools, diverse saunas and the multitude of treatments. With the opportunity of meditating with its resident Shaolin monk or riding its Lippizaner horses, you'll never be bored. And did I mention the Nordic walks, boating on the lakes or skiing in the alpine hills?
In the know...
On the menu: A huge list of face and body treatments, from alpine herb baths to lomilomi, Ayurveda and alternative therapies.
Signature treatment: Trigger-point full-body massages
Cost: From €51 (£45) for 40 minutes.
Verdict: 10/10
posthotel.at
Blu Spa at the Blu Suite Hotel, Rimini, Italy
by Seamus McDermott
With its own private beach along a quiet stretch of the Riviera, the Blu Suite offers guests a more relaxing side of Rimini, while inside the hotel, the Blu Spa makes the perfect diversion from sun, sea and sand.
After being served a refreshing non-alcoholic cocktail, we were led down a wide spiral staircase illuminated by candles and scattered with rose petals. The modern spa area was finished in stylish creams, browns and blacks and further candles lent it an intimate atmosphere. Despite being compact the spa had everything you could need, including a refreshing eucalyptus shower experience — although I was disappointed to find the five-senses room out of order.
The Blu Spa follows Ayurvedic principles, with a wide range of massages and treatments available using Lakshmi products. With my less-than-perfect posture taking its toll, I opted for a FisioVeda massage, which works on the whole body to relieve tension and back pain. Sixty minutes later, the knot-busting massage, scented oils and candlelit atmosphere had worked their magic, and I emerged feeling like a weight had been lifted from my shoulders.
Then it was off to the steam room with a bowl of Secrets of the Hamam black soap to treat myself to a cleansing body scrub, which left my skin refreshed and glowing.
In the know...
On the menu: Ayurveda, shiatsu, salt scrubs, steam baths and anti-ageing facials
Signature treatment: Deep Relax Treatment Body scrub followed by Ayurvedic massage and facial, from £170.
Cost: One-hour Ayurvedic massages cost from £60.
Verdict: 7/10
blusuitehotel.it
The Runnymede-on-Thames, Egham, UK
by Caroline Phillips
This hotel enjoys a marvellous riverside location at the centre of the children's universe – near Legoland – and thoughtfully the spa also caters for teens. It has great facilities: tennis courts, open-air pool, dance studio, gym, an 18-metre indoor pool, whirlpool bath, sauna, eucalyptus steam room and, best of all, Aquitaine — a private spa room for up to eight people with an adjoining double-treatment room.
It has something of the first-class lounge about it, with its massage chair, L-shaped sofa, manicure station, enormous flatscreen and kitchenette with fruit and teas. Our hostess Jenna was welcoming and attentive; after lolling in the steam room, we were served a lunch of crab and prawn salad. Then our therapist Rachel gave my daughter, Ella, a Refresher Facial and what the menu dubs 'Teenie Toes' and 'Fab Fingers' — a mini-manicure and pedicure. Ella said she'd never had anything so wonderful.
Meanwhile Jenna gave me a Crystal Facial with ESPA products, hot stone massage on my shoulders and cold rose quartz crystal on my face for drainage; my face looked brand-new and glowing afterwards. My daughter was unsure about the double treatment room because I fell asleep and snored! But she did say that "nothing could top" the entire day.
In the know...
On the menu: Overnight breaks and top-to-toe teen treatments plus face and body therapies for adults.
Signature treatment: The Teen Angel Facial.
Cost: £50 per person (minimum two people) for use of the private Aquitaine spa room — including elevenses, light lunch and glass of champagne, tea and pastries, hostess and facilities. Bespoke package of Crystal Facial, Refresher Facial and mini-manicure and pedicure from £250.
Verdict: 8/10
runnymedehotel.com
Kivotos Hotel & Spa, Mykonos, Greece
by Nicóla Brookes
Overlooking scenic Ornos Bay, Kivitos Hotel & Spa is one of the most beautiful places I've ever stayed. For three nights my companion and I lounged around a villa-like room with Hermes products in the bathroom and fragrant lavender pouches in our wardrobes — I felt like a princess.
As expected, this five-star boutique hotel has extremely attentive and friendly staff: you can tell it's family-run as it's so relaxed and has everything you could possibly require. The food was delicious, with healthy as well as naughty options: my favourite was fruit served alongside a chocolate dipping fountain at breakfast!
The hotel also has a private beach and pool with a swim-up bar playing cool tunes well into the evening — but since it's situated within minutes of Mykonos town, most nights my companion and I jumped into the hotel's own chauffeur-driven car to party the night away in the port. The staff were also happy to advise us where to head for dinner and which beaches to go to: they even offered us their private yacht which guests can use for day trips or a romantic evening meal for two.
For relaxation, we headed to Kivitos' Mozaic Spa. Although on the smaller side, it's perfectly formed with a range of treatments as well as a steam room, sauna, hair salon and pedicure stations. While my pedicure was superb, my companion couldn't stop telling me how good his massage was. That said, he wasn't the only one: everyone we spoke to agreed their treatments were spot on. Just take care to pre-book treatments, as they're incredibly popular and get booked up fast. But I guess that's simply testament to how lovely this hotel really is.
In the know...
Signature treatment: A 70-minute yoghurt, honey and sugar body treatment.
Cost: 60-minute massage from €95 (£79); manicures from €35 (£29).
Verdict: 9/10
kivotosclubhotel.com
!QMS Medicosmetics, London, UK
by Katie Reich-Storer
The cool white interior of !QMS Medicosmetics' new flagship spa is enough to make anyone sigh with relief. The calm, air-conditioned reception area is a welcome oasis from bustling Chelsea and the brand exudes a confidence that make your shoulders drop.
My facial— a 90-minute Classic Collegen Treatment and Oxygen Boost — started with a thorough cleanse of my skin. My therapist talked me through each step, explaining every product and its affect on my skin. Having recently given birth my skin was "confused", according to the therapist — so a bit of TLC was required. After an exfoliation, two facial masks, collagen application, a few extractions, a toning oxygen blast and moisturising my skin felt like it had had a thorough boost. Lighter, softer, smoother and clearer, I couldn't believe that so much was possible after just one treatment.
Although it wasn't a particularly relaxing experience, the insightful information my therapist gave me — both in terms of my skin and the products she was using — more than made up for it. While this results-based facial may not be a pamper or quick-fix, it's certainly a long-term skin saver.
In the know...
On the menu: A whole range of facials, including personalised treatments to suit different skin types and needs affected by current lifestyles.
Signature treatment: Classic Collagen.
Cost: From £125 for 90 minutes.
Verdict: 9/10
qmsmedicosmetics.com
The Ritz-Carlton Highlands, Lake Tahoe, California, USA
by Jo Garvey
Nestled among the mountain pines on Northstar Resort is the Ritz-Carlton — I was instantly struck by the magnificence of the place; it surely sets a new standard for luxury ski-in/ski-out spa hotels.
There are three restaurants, the most acclaimed of which is Manzanita with noted chef Traci Des Jardins' signature French-California cuisine. The interiors radiate warmth, texture and nature, fireplaces in every room add a cosy feel, floor-to-ceiling windows highlight some stunning views and marble bathrooms add a contemporary touch. Facilities include a gondola to the village, skiing, a pool and hot tub.
The spa has 16 luxurious treatment rooms, a fitness centre and a heated spa lap pool overlooking the slopes. My therapist explained that she would give me the Northstar Espresso Glow & Envelopment treatment followed by a massage. The treatment room's floor-to-ceiling windows were surrounded by snowy pines, and I lay surrounded by the natural harmony of this forest sanctuary, happily watching snow fall to the ground.
The treatment featured a unique scrub made from coffee granules, which left my skin glowing and smooth. The massage was the perfect complement to it, and I was left feeling relaxed and ready for a cocktail by a cosy fireplace.
In the know...
On the menu: Body, nail, hair, maternity, skin and water therapies.
Signature treatment: The Ritz-Carlton Highlands Signature Organic Elements Massage where blends of essential oils represent the elements: water (lymphatic), wood (overall vitality), fire (circulatory), earth (muscular; skeletal) and metal (nervous).
Cost: The 50-minute massage from $145 (£92).
Verdict: 9/10
ritzcarlton.com
Maison Talbooth, Dedham, Essex, UK
by Katie Reich-Storer
Maison Talbooth is the sort of hotel you don't actually want other people to know about. This peaceful retreat is the perfect place to unwind: small enough to feel cosy but large enough for excellent service and luxury facilities. Its piece de resistance has to be the treatment rooms and pool house.
I opted for a full body massage as, after lugging my baby around for nine months, my back was in serious need of an MOT. My therapist had some of the best hands in the business and got straight down to the knots in my back and neck, and an hour later I felt as though a huge weight had been lifted.
A little sore, it was a relief to relax in the stunning outdoor pool area complete with heated pool, hot tub and al fresco fireplace to snuggle up with the weekend papers. That evening, it was a short transfer to the riverside Talbooth restaurant for an incredible feast of food and wine before retiring to my suite. My only criticism was that the suite could do with a revamp — but that hasn't stopped me planning my return.
In the know...
On the menu: Face and body treatments from Dermalogica.
Signature treatment: The spa's known for its deep, intense massages and using hot stones in manicures and pedicures.
Cost: 55-minute powerdirect 55 deep tissue massage from £50.
Verdict: 8/10
prideofbritainhotels.com
ENA Spa, London, UK
by Jo Gardner
Arriving 20 minutes late for a treatment wouldn't usually be the best start, but the lady at the Ena salon in London's Holborn was perfectly nice about me being delayed by a slow-moving bus; she duly performed a full anti-ageing facial despite going against the clock.
Lying face-up on a table, my treatment started with a slow massage, smoothing out my furrowed brow, followed by long strokes along the rest of my face and neck. Stressful journey? What stressful journey?
A light moisturiser was then patted on to my face and smoothed in using more long finger trokes before a collagen mask was placed on my face, leaving only my mouth free. Feeling very claustrophobic all of a sudden, I asked for my nose to be uncovered too — my request duly obliged with a pair of scissors! Panic alleviated, the mask was solidified using a wet sponge and left on for 20 minutes.
Feeling more comfortable — but glad that no-one could see me — I drifted into a daze and let the mask seep in and do its work. The spa's website said the mask promises visible results and, when it was time for it to be peeled off, there was indeed a more healthy glow about me that really set me up nicely for the afternoon ahead.
In the know...
On the menu: Facials, massages, mud treatments.
Signature treatment: 90-minute face and body aromatic well-being and tranquillity ritual.
Cost: Chrono reverser collagen facial, from £95 for 75 minutes.
Verdict: 8/10
enasalon.com
Reader Review: Hotel Le Palais, Prague, Czech Republic
Viv Bass & Steve Ellis
Describe the hotel... Le Palais is a five-star resort tucked away in the corner of a quiet and pretty cul-de-sac, 10 minutes' walk from Wenceslas Square — a tranquil bolthole close to all the action.
The manager Denise and her staff were exceptionally friendly and gave us a guided tour of the property, which was previously the residence of a wealthy Prague businessman. The building is stunning and retains the grand decor of its previous incarnation, with incredible mosaic floors and exquisitely painted ceilings and frescos, giving the place a palatial feel. It certainly lives up to its name. The rooms were bright and airy, allowing for some amazing views across the city skyline. The dining,meanwhile, was definitely on the 'fine' front.
At the end of our stay, we were stranded by the infamous Icelandic ash cloud, but the staff went the extra mile, offering us continued accommodation at a reduced rate; this was typical of their consistently high levels of hospitality. Unlimited internet access allowed us to plan our alternative journey home. I wouldn't hesitate in choosing to stay here on a return trip to Prague.
And the spa? The Pure Spa is a luxurious haven, comfortable and inviting, run by well-informed and friendly staff. There was a large hot tub with a variety of jet pressure options, a fully-equipped gym, aroma-shower, steam room and sauna. There are five therapy rooms, one of which is a spacious 'couples' room for joint therapies.
What major products are used? Ligne St Barth products. These contain active ingredients of the plants, fruits and flowers of the French Caribbean from which they are extracted.
What's the signature treatment? St. Barth sensation — a luxurious body mask with pampering relaxation massage. It's possible to have the treatment in the couples room, which is around £195 per couple for 60 minutes.
X-factor treatment? The four-hour Couple Treatment Experience including a sauna and steam bath, peeling, body mask and relaxing massage. From CZK 12,800 (£429) per couple.
Would you go back? Without a doubt.
Rating 9/10
palaishotel.cz