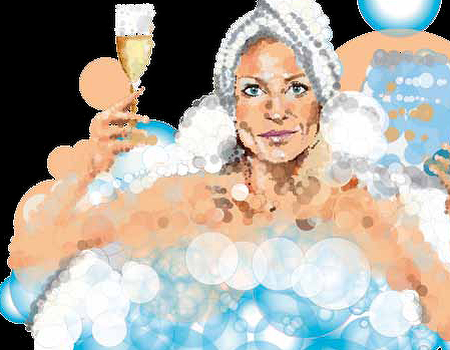 Rejoice, I see snowdrops… spring must have sprung! Any minute now the sun will be warming our frozen bones and whittling away those wretched winter blues. Just before the big freeze, I was invited to Paris by the Le Residence hotel group. Carita is their chosen spa skincare brand and I experienced their signature facial. The scrub, made of sunflower seeds, was a little on the smelly side, but it made my skin feel incredibly clean and soft. Tiny electro currents were also applied to my face, yielding an odd taste, but my face looked toned and positively glowed afterwards.
www.theresidence.com www.carita.com
Better than Botox?
I'm 35 this year and partied like a rock star in my younger days, so thought it was about time I did something about the laughter lines deepening around my eyes. I visited Professor Haq to test a new algae-based treatment which lasts up to 18 months. The outer eye area is numbed first, then the product is injected to plump up skin. It lasts longer than Botox and has a much softer look, too.
From £350. London Wellness Center & SPA UK . T: 020 7341 9972 begin_of_the_skype_highlighting              020 7341 9972      end_of_the_skype_highlighting.
Have you tried the new tea by Solaris botanicals...?
They're hand-picked and organically grown, plus you don't need a tea bag or strainer. Simply drop the buds into hot water and watch them magically transform into a spectacularly beautiful blossom. A must in the spa…
From £1.80. www.solarisbotanicals.com
There's more
Not content with mere inner peace, I also went to have my blood tested by Gareth Edwards at the Hale Clinic. Based on the results, he advises what you personally should and shouldn't be eating. It's quite an eye-opening experience — but I'll tell you all about it in the next issue.
Gareth Edwards BSc. DipION . mBANT, www.food-for-life.co.uk
And finally…
We all know we should eat healthily, exercise and do yoga (remember to breathe) to look and feel fabulous, so my top tip for spring: Spa like a goddess, often and with your friends and loved ones. Create a spa haven at home and make sure you look after yourselves. You deserve it!