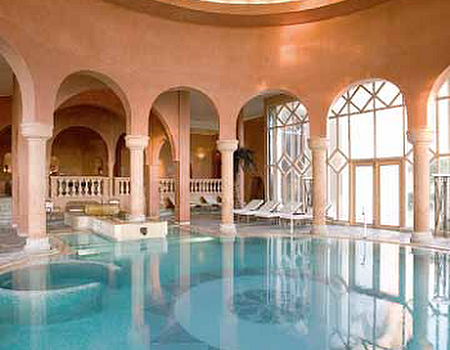 Dusk was a special time to arrive at Leading Hotels of the World's only Tunisian property. Thalassotherapy spas are big business in Tunisia, and having dipped my toe in a few, this one felt more luxurious than its more clinical rivals. Seamlessly blending medical know how with luxury pampering, the hotel's proximity to the beach, Romanesque thalasso pool and huge hamam added to the opulence.
Feeling braver than normal, I brushed my claustrophobia aside and let myself be coated in algae before being encased within a white-domed 'steam box'. I emerged 20 minutes later with skin softer than a kitten's ear, feeling desperately thirsty. Within moments of pouring myself a herbal tea in the pool's relaxation area, I'd dozed off. But a few minutes later, I was being led to a room for a knot-busting back massage.
Meanwhile, the restaurants were sensational — and too tempting for would-be dieters. Unless you have Herculean willpower, you will inevitably succumb to the delicious food.
Reviewed by Annabelle Hood
In the Know
On the menu: Darphin facials and body treatments including pregnancy and men's treatments, plus thalassotherapy-based wraps and massages
Signature treatment: Body Scrubbing with a kessa glove in the hamam costs £21 for 20 minutes.
Cost: Thalassotherapy body treatments cost from £23, while Darphin facials start at £44 for a 40-minute eye treatment.
Verdict: 9/10
Contact: www.theresidence.com