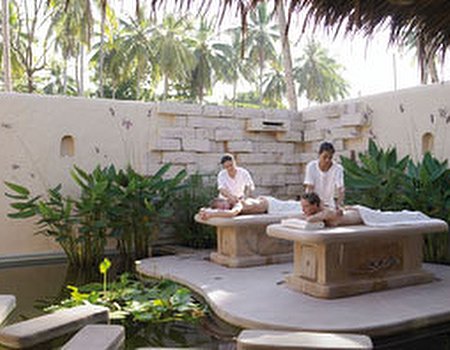 Explore Thailand with the first in a series of reviews by Spa Secrets.
Thailand's recipe of luxury accommodation, soothing spas and golden sands makes for the holiday of a lifetime, says Kellie Smith.
The Land of Smiles, the endearing phrase often used to describe Thailand, is befitting of a country known for its friendly locals and first-class service. Despite the civil unrest at the end of 2008, Thailand's people are still part of its appeal as a holiday destination, with goodwill greeting visitors whenever they turn.
And it's an ideal destination for travellers looking for a luxurious and exotic winter-sun break away from colder climes. From the bustling metropolis of Bangkok to the beach resorts and islands, there are five-star properties, fine-dining restaurants and gorgeous spas in which to while away the holiday. And with endless stretches of coastline and year-round sunshine, the image only gets better.
It probably explains why so many celebrities choose to holiday in Thailand, including the likes of Kate Moss, Cheryl Cole, Robbie Williams, Charlotte Church, Simon Cowell and famous chefs Rick Stein and Gordon Ramsay — attracted by the great food no doubt. Big on the hit-list with the A-list are Chiva-Som in Hua Hin and Sri panwa in Phuket among others, while other popular spa haunts include Six Senses properties dotted around the country, Banyan Tree in Bangkok and The Tongsai Bay in Koh Samui to name but a few.
So, if the cold British weather has left you with a case of the blues, then book a trip to Thailand for a guaranteed mood lift.
City Life: Bangkok
Main attraction: Hectic and fast-paced — with an overwhelming number of sights to take in — arriving in Bangkok for the very first time can be a culture-shock. But it's exactly these qualities that give the capital its personality. Simply take a tuk tuk, a cheap, local form of transport, along the roads of Bangkok and you'll begin to understand why.
Interested in culture? Then why not take a tour to explore one of the many Buddhist temples or take a cruise down the Chao Phraya River to visit the floating markets and admire the Grand Palace. Want to bag some bargains? The capital offers shopping for all budgets, from designer names to department stores and the Chatuchak weekend market is a must for anyone wanting to practice their haggling skills.
After dark: Bangkok comes alive at night, so there's plenty to do when the sun sets, from dining in gourmet restaurants and lounging in bars, to dancing the night away in one of the many nightclubs dotted around the city. Bangkok may have made a name for itself with its Go-Go Bars, but if you're looking for somewhere a little more upmarket, areas such as Chidlom-Ploenchit, with its lavish wine bars and restaurants, may be more your style.
But then again, the nightlife in areas such as Sukhumvit and Bangkok's famous red light district Patpong is an experience in itself, with enough night clubs and bars to keep you entertained until the early hours. Night markets on Koh San Road and in Patpong and Suan Lum Night Bazaar are great places to pick up some bargains and revel in the night-time crowds.
Relax: Far removed from the bustling atmosphere on Bangkok's streets, the Banyan Tree offers a soothing sanctuary for guests. With several options for wining and dining, including an open-air rooftop lounge, you'll find it hard to leave the comforts of the hotel.
A central part of the property is its spa, offering an endless menu of pampering, including the signature collection, the Rainmist Experience. This includes the Rainforest Dew Mist consisting of an orange and yoghurt scrub to remove dead skin, a honey and milk conditioner to soothe the skin, a rainmist shower and a choice of body massage. Priced from £114. All spa sessions include a 30-minute Calm Time consisting of a soothing footbath, herbal drink and time to relax.
T: +66 2 679 1200 begin_of_the_skype_highlighting              +66 2 679 1200      end_of_the_skype_highlighting. www.banyantree.com
Alternative: With a Como Shambhala-branded spa on hand, the Metropolitan Bangkok is a real urban escape, with treatments such as reflexology and Thai massage helping guests to feel calm and relaxed. There's also the Jet Lag session which will give you a kick-start when exploring the capital. As well as 10 treatment areas, facilities include a gym, steam rooms, a hydro pool, outdoor pool and yoga studio.
T: +66 2 625 3333. www.metropolitan.como.bz/bangkok
Islands: Koh Samui & Phuket
Main attraction: They may be located on opposite sides of the country — Phuket in the Andaman Sea and Koh Samui in the Gulf of Thailand — but these two islands have a lot in common. The main reason for visiting are the long stretches of sand — both Phuket and Koh Samui are blessed with a wealth of beaches. But if lying on a beach all day gives you itchy feet, then there are plenty of hotels offering activities including watersports such as scuba diving, paragliding and waterskiing.
Heading inland, Koh Samui has a 30-mile loop road which is worth driving down as it takes you past beaches, fishing villages and waterfalls, while Phuket's major attractions include the Chalong Temple, a Buddhist place of prayer. Incredible architecture is also a highlight of Phuket so go on a walking tour to see old European-style buildings such as the Provincial Hall, the Phuket Courthouse and Nakhon Luang Thai Bank, while examples of Mediterranean and Chinese influences are also visible in the architecture.
Visitors can also arrange trips to one of the neighbouring islands, including Koh Hey off Phuket, renowned for its coral reef. Or if you're on Koh Samui, head to Ange Thong Marine National Park, an archipelago covered in virgin rainforest.
After dark: Both islands have a wealth of nightlife so you'll be hard pressed to fit it all in. There are a variety of restaurants, bars and clubs, as well as transvestite cabaret shows and Thai Boxing. Patpong Beach is Phuket's biggest night spot, with clubs and bars beating out loud music, while Karon Beach is more family-friendly and suited to couples looking for a few quiet sundowners and a peaceful meal.
Chaweng Beach is Samui's most popular nightlife area, while quieter options include Maenam Beach, a coastal village, Bophut for a relaxed drink and Big Buddha Beach with festivals and local events. And if the timing is right, take advantage of Koh Samui's close proximity to party island Ko Pha-ngan for one of the famous full-moon parties.
Relax: Located on the pristine island of Naka Yai, just five minutes by private speed boat from Phuket, the Six Senses Destination Spa Phuket has 61 private pool villas and pool villa suites with guests navigating the island by bicycle. The spa, aptly named The 7th Sense, offers a range of holistic treatments, wellness classes and activities such as bootcamp fitness on the beach and outdoor training in a jungle gym.
The spa is split into four different philosophies: Chinese including acupuncture and traditional Chinese medicine; Indian, offering Ayurvedic treatments and colonic therapies; Indonesian with therapies inspired by water; and Thai, incorporating a Thai massage school and herbal steam rooms. It also offers other types of therapies including a signature treatment called Iridology Consultation, which comprises a complete analysis of the iris to reveal how the body is functioning, priced from £98. www.sixsenses.com
Alternative: Centred around a cave that was once a place of meditation and spiritual retreat for Buddhist monks, Kamalaya Koh Samui, Wellness Sanctuary and Holistic Spa resort is the ideal place to unwind and relax. It offers a variety of programmes such as detox, weight management and stress, as well as holistic therapies including Ayurveda and Reiki. There's also a range of massages to indulge in.
T: +66 77 429 800.