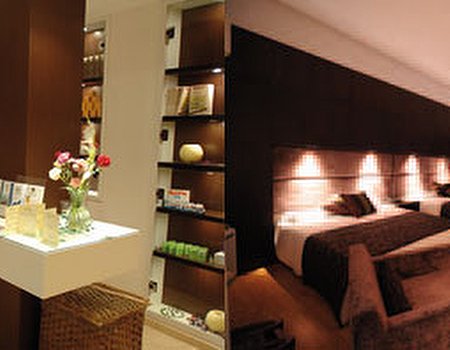 This luxury hotel – a celeb favourite – is famed for having not one, but four spa centres and over 200 treatments. But being pampered and detoxed here isn't just about the high-tech facilities in the spa.
The highlight for us was our 'therapeutic spa bedroom' with a gem of a bathroom containing an array of superb spa equipment. There was a single Jacuzzi with lots of different programmes to help you relax, a steam room big enough for two; and, the 'piece de resistance', a spa pod with infrared lights, steam infused with aromatherapy oils and a built-in massage facility. My friend Viv and I took it in turns to use all the facilities in our room, morning and night. Pod, Jacuzzi, steam – it became a daily ritual and was soon addictive.
Fortina also has some new wellness bedrooms that come with a complete sleep system with spot magnets within the mattress, duvet and pillows to create a gentle energised field, a five-stage Hepa air filtration system to provide mountain fresh quality air, and even your very own Power Plate to use. The hotel is renowned for its weight loss programmes and physio treatments – hence the A-list guest book.
One of the most useful facilities for me was the food intolerance testing as I have long endured stomach problems and never had the time to get to the root of the problem. I now have a list of things to take out of my diet and, in just a month, I am beginning to feel better already. I also enjoyed a superb massage and a facial, while the manicures and pedicures were equally excellent. Viv really enjoyed her scrub, body wrap and dry float and said she felt like a new woman afterwards.
The hotel is ideal for those looking for total rest and relaxation. You can order room service and watch some great films in your room, relax by one of the pools in the sun or explore Malta. I'm determined to return. The only question is when – and what treatments I will indulge in...
On the menu: Everything from Thalassotherapy to colonic irrigation. There is also a dental clinic and aesthetic services including chemical peels, Botox, lip enhancements and injectable implants.
Signature treatment: There isn't one signature treatment but over 200 to choose from. Cost: Spa Travel offers three nights accommodation from £429 per person. Price includes return flights, two Thalasso Pool treatments and one Spa Sante session.
Verdict: 9/10