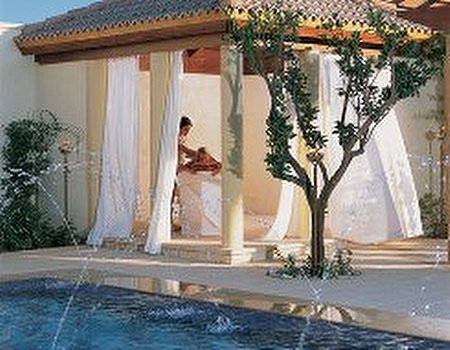 If you feel in need of more than a traditional massage, it could be time you tried a hands-on therapy to get to the route of your aches and pains. Sarah Drew-Jones finds out more...
Modern life was made for massage. Think about it for a moment: do you spend your week running around in high heels, carrying this season's huge bag, sleep-deprived, stressed, slumped in front of a steering-wheel or computer, wondering if your back, head and tired feet will ever be pain-free again?
If all this sounds horribly familiar, you could do with some hands-on healing. While regular massage will relax you for an hour or two, it's the specialist 'touch therapies' of reiki, reflexology, shiatsu and acupressure that will really get to the root of your aches, pains, anxiety and fatigue and do some deep-seated good.
These therapies, complementary in nature and diagnostic in practice, are fantastic stress-busters as they can help re-align your body, boost your immune system and re-balance your thoughts. At the heart of each of them is the ancient Eastern principle of 'chi': the idea that energy flows around the body through meridians or 'pathways'. When these pathways become blocked, pain, tension and health problems are the inevitable result.
These four hands-on wellness techniques focus on keeping your chi flowing freely, releasing endorphins along the way to bolster your mood. They also help deliver oxygen to your cells to flush away toxins and restore a feeling of glowing health. Sounds amazing… but do you know which one is right for you?
Start with a good look at your symptoms. If you're feeling run-down, lacking in energy or you're picking up every cough and cold going, opt for shiatsu or acupressure as they're wonderful at strengthening core vitality. If you have a niggling health worry (PMT, for example, migraine or stomach upsets) or are recovering from an injury, try reiki or reflexology as these treatments are designed to work on the cause of a particular problem.
The great thing about these tried-and-tested techniques is they're all gentle, non-invasive and effective at treating an incredibly wide range of health problems. Reflexology and acupressure, which both originated in China, have even been successful in helping some women with fertility problems, while shiatsu and reiki, both first developed in Japan over a century ago, are superb for relieving mild depression and the kind of debilitating mood swings that often go hand-in-hand with hormone imbalances and Seasonal Affective Disorder (SAD).
But don't think that these four treatments are just for the sickly or stressed-out. They're every bit as luxurious a spa treat as an algae wrap or aromatherapy facial. These wellness techniques are practised in five-star spas across the globe, and always by well-trained and experienced therapists, who will talk you through your health concerns and tailor the treatment for you. If you're in need of some profound relaxation, re-balancing and re-booting of your sense of wellbeing, then try these fab four: you're sure to emerge feeling a better, brighter, and an altogether healthier you.
What is it? A Japanese word, reiki (pronounced "ray-key") means 'lifeforce', representing the energy which reiki therapists believe is all around us and inside our bodies, influencing our health and wellbeing. It's when this energy gets blocked that problems occur, so the purpose of reiki is to keep the energy flowing free and strong. It's a form of natural healing: a blend of hands-on treatment and meditation, developed in the 1920s, in Japan, with techniques handed down from reiki masters to pupils. Though not scientifically proven, reiki teachings say that a person's lifeforce can be harnessed and passed to others to heal and soothe.
How? The practitioner places their hands in a sequence of positions on, or sometimes just above, the body, holding them still for a few minutes, or just a few seconds. Whatever the symptoms, reiki treats the whole body and not just localised areas and a treatment can take up to an hour and a half. Amazingly, reiki is regarded to be so powerful it can be done through clothes, shoes and even plaster casts. All you have to do is totally relax, breathe evenly and empty your mind.
What is it good for? Reiki takes a holistic approach, so it can be used to help physical, mental or emotional pain, making it a great option if you have a tendency to get stressed, or suffer from any worry-related health problems, such as Irritable Bowel Syndrome. Specifically though, reiki gets its best results from treating headaches and migraine, backache and aching feet, and is said to speed recovery from sports injuries and broken bones. Reiki doesn't use any special equipment and can be done anywhere — therapists recommend regular sessions to help you recharge. Dr Robert Jefford of the UK Reiki Federation says: "Reiki brings mind, body and spirit into balance. It promotes relaxation, too — we know that a staggering 95% of people who try it feel so relaxed they fall asleep within five minutes of the treatment starting!"
Best spa for reiki: The Out of the Blue, Capsis Elite Resort on the island of Crete is the home of the Euphoria Rejuvenating Spa, where you'll find holistic treatments and therapies focusing on health and stress reduction. Its reiki treatment lasts for 55 minutes and costs £66, but the spa offers such beautiful packages you'll want to try the whole menu: the three-day, stress-busting Rejuvenation Package is a great place to start, for around £538. This five-star deluxe resort hotel is located on a private peninsula, has its own beach and even its own private zoo.
Alternative spa: The Shymala Ayurveda Spa in Kensington is proof it's possible to find inner peace in London. In a spacious and chic house, the spa specialises in customising treatments to your body type, and the reiki treatment is world class. From £70 for one session, or £50 for a series of four.
What is it? Shiatsu is a deeply relaxing massage technique in which the therapist applies subtle pressure to specific points on the body to stimulate and clear the pathways carrying energy to our cells. A mix of traditional Japanese 'healing hands' therapy, Chinese holistic medicine and Western knowledge of anatomy, shiatsu came to prominence about 100 years ago. If you're not a fan of deep-tissue massage, you'll love shiatsu, as there's no rubbing, squeezing or pummelling, and no oils are used. In fact, from the outside it doesn't look like there's much going on, but under the surface the small changes are reaping big rewards. The masseuse relies on a calming, rhythmic and focused pressure at various points along the body using the pads of their fingers, thumbs, hands or even elbows, as well as a simple rotation of a limb. Expect to receive your treatment fully clothed, either on a low massage table or a mat on the floor, and it's not unusual to feel some localised pain, which therapists say is a sign of a problem about to be solved!
What is it good for? Shiatsu is a fabulous option for those who need a little extra help with relaxation, and, as such, it's widely regarded as being good for tiredness, tension and even depression. Its gentle fingertip manipulation is also good for relieving headaches, joint stiffness, arthritis and posture-related aches. And, as GMTV medic Dr Hilary Jones, who's long been a supporter of shiatsu, says: "Various conditions including anxiety, stress, back pain, neck pain, and insomnia can all benefit from shiatsu. We may not know how it works, but people often find they feel so much better."
Best spa for shiatsu: Newly opened this summer, the Mandara Spa at The Grand Mauritian Resort on Turtle Bay in sun-drenched Mauritius is a haven for those wishing to escape the everyday grind. Stress, aches and exhaustion all become a thing of the past after you've floated through the spa's signature treatment, the 'four hands on' Mandara Massage, which marries shiatsu with a range of other massage styles, including Thai, Hawaiian and Balinese. Treatments take place in villas with flower-filled gardens and private outdoor showers and steam rooms. A true retreat-from-the-world experience, the Mandara Massage focuses on pushing tension out of the body and boosting energy. But the resort itself should help with that, too: bordered by a reef, sandy beach and lush sugarcane fields, each of the 193 guest rooms and suites has a stunning ocean view. Packages start from £335 per night excluding flights.
Alternative spa: The Retreat Spa in the clifftop Aphrodite Hills Resort in Cyprus has the brand new Journey of Reflection treatment: a sublime sensory massage with two therapists mirroring each other's movements, working in unison. Taking shiatsu principles one step further, the massage is perfect for deep relaxation. It costs from £155, but certainly worth every penny.
What is it? Acupressure is a traditional Chinese medicine technique which has its roots in acupuncture. Unlike that therapy though, acupressure doesn't use fine needles, but lightly applied pressure from the hand, elbow or devices such as cotton-covered pads. Acupressure is all about pinpointing problem areas and focusing intensely on them until the knots, tension and energy blocks fade away, making it the perfect treatment for emotional as well as physical pain. An acupressurist works with the same points used in acupuncture – called acupoints – loosening and stimulating them to enable healing without the use of manipulation or deep pressure. It's been shown to achieve great results for acute conditions and chronic pain because it kickstarts the body's own ability to cure itself. But acupressure is also a powerful complementary therapy, and can be used regularly to help prevent illness and give a sense of wellbeing — it's often recommended for people going through traumatic times, such as relationship break-ups, as it can help with disrupted sleeping patterns and can quieten a restless mind.
What is it good for? All manner of stress-related problems can be helped by acupressure, including fatigue and lethargy, indigestion, insomnia, allergies, eye strain and irritability. Travel a lot? Try acupressure for motion sickness and upset stomach, jetlag and dizziness, while it can also relieve PMT, circulatory problems, nausea and loss of appetite. Most importantly, acupressure must always be done by a qualified practitioner, as Clive Teal from The Institute for Complementary and Natural Medicine explains: "Acupressure is about the diagnosis of problems so it's essential to have a therapist who's an expert. Put yourself in the hands of a professional and you'll get a treatment completely custom-made for you."
Best spa for acupressure: The glorious Riviera Maya region of Mexico is where you'll find the Aventura Spa Palace, an adults-only, luxury resort built around an extravagant spa, complete with everything from tennis, diving and watersports to yoga huts, meditation pools and waterfalls. The spa's treatments all focus on "purifying, restoring, and revitalising the senses", but the stand-out is the Face, Head and Shoulder Acupressure massage, a therapeutic finger pressure massage on the key energy-balancing points of the face, neck, head and shoulders. Spa-day packages start from £150: the hotel has several all-inclusive packages (not to mention double Jacuzzis in each room).
Alternative spa: Acupressure forms the basis of the fatigue-busting Shiroabhyanga Head Massage at the Ayush Wellness Spa at the Hotel de France in Jersey. Lasting an hour the massage focuses on the head, neck, and shoulders, using Ayurvedic oils to really get to the core of tiredness and tension. The massage costs from £65, while The Retreat full-day package is £385.
What is it? Reflexology treats health problems by massaging, squeezing, or pushing on different parts of the feet, in a relaxing and invigorating way. Based on the same principles as Chinese acupuncture, reflexology dictates that every organ, area and system in the body is mirrored by a reflex point in the feet, and that by gently manipulating these areas the body can be cleared of blockages. It's gained a reputation for keeping the body's systems in balance, making it ideal if you have a poor immune system or suffer from digestive problems. The therapist will place your foot on their knees and massage all the reflex zones in the sole of your foot, moving on to look for problems in the toes, bones, heels and ankles. Using circular motions, reflexology can really help you unwind, releasing tension, seemingly without much effort.
What is it good for? Nicola Hall, chair of the British Reflexology Association, says: "Reflexology is a complementary medicine that's also a very relaxing therapy. Unlike some treatments, it's suitable for almost everyone, even pregnant women, and works particularly well with hormonal problems, such as PMT, mood swings and even menopause. It's also great for treating mild depression, low-energy levels and stress, and even a one-off treatment can really help." It's also worth signing up if you suffer from eczema, asthma, a sensitive stomach, or fertility problems, as reflexology's had some encouraging success.
Best spa for reflexology: One of the specialisms of the cool and contemporary Caracalla Spa at the five-star Le Royal Meridien Beach Resort and Spa in Dubai. Caracalla's Reflexology Massage, from £50, is hard to beat. The treatment diagnoses and targets problem areas, soothing the body and revitalising depleted energy stores. With five magical and meditative Hammam pools, saunas, steam rooms, Jacuzzis, and a range of massage, aromatherapy, and beauty treatment rooms over three Roman-themed floors, the spa is a temple of pampering. If you can tear yourself away from the spa, the hotel is set in landscaped gardens, right on the famed Jumeirah strip with its golden sandy beaches, golf, shopping and exquisite turquoise sea, so there's plenty to enjoy.
Alternative spa: Hidden deep in the Surrey countryside, Grayshott Spa has a reputation for holistic therapies, including reflexology. Donat Houe, the spa's reflexology expert, says: "This is one of the safest ways to boost the immune system as it encourages the innate healing powers of the body." This treatment is best experienced as part of a weekend package, such as the De-stress Programme, £475, which also includes aromatherapy and a sleep-consultation service designed by The London Sleep Clinic.
Contacts
Reiki, reflexology, shiatsu and acupressure are specialised disciplines and it's essential that your therapist is qualified and experienced, especially if you're pregnant or undergoing conventional medical treatment. Visit these websites to find the best practitioners:
Reflexology: British Reflexology Association, [1]
Association of Reflexologists, [2]
Reiki: UK Reiki Federation, [3]
Acupressure: Institute for Complementary and Natural Medicine, [4]
Shiatsu: The Shiatsu Society, [5]