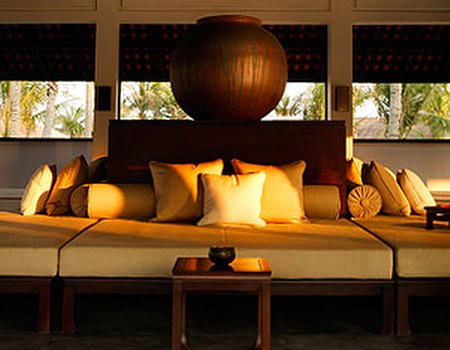 Vietnam is a surprisingly large tract of hills and densely forested mountains, shot through with exquisite biodiversity and friendly people: it's a land of vivid colours, striking landscapes and mouth-watering food.
To the east of Hanoi, Halong Bay comprises 3,000 tiny islands, forming a dramatic limestone seascape. Ho Chi Minh City is also a fascinating place in which to spend a couple of days before winding down on one of the islands.
The place to be: Hoi An
In ancient times, Hoi Hn had the largest harbour in South- East Asia, as a result of its importance in the spice trade. It was designated as a UNESCO World Heritage Site in 1999, marking it as a perfectly preserved example of a South East Asian port. today, hoi an remains a small city, but it welcomes many tourists attracted by its riverside charm.
The Hotel: Nam Hai
Set on the edge of the sweeping arc of Ha My beach, the Nam Hai resort balances dark wood, white walls and symmetrical architecture conceived by Aman Resorts founder Adrien Zecha. Villas boast private terraces and gardens, deep baths and tent beds on raised platforms.
If you're exhausted after a day in the heat, chill out in front of your giant flatscreen TV, complete with free on-demand movie library, or listen to music from your fully loaded iPod. Malaysian chef Stanley Cheung creates a balance of healthy and decadent cuisine. www.namhai.com
The spa: Surrounded by a tranquil lagoon, the facilities include eight luxurious private villas, each with a changing room, steam shower and bath.
The product: Balinese therapists, Irish linen, Vietnamese warmth and other-worldly luxury. The treatment: The Nam Hai Indulgence includes a facial, foot polish and massage, and body scrub and massage. The best bit: Taking a bath strewn with rose petals while enjoying Champagne and canapes.
The price tag: £2,375 per person for a seven night stay.
Alternatives
Evason Ana Mandara's Six Senses Spa in Nha Trang is set among 280,000 sq ft of tropical gardens. Inside the spa, there are treatment rooms for couples or singles, with sunken Jacuzzi baths, a Vichy shower and a Japanese-style bath.
The bucolic setting of Pilgrimage Village in Hue is the perfect place to experience a traditional treatment. The Pilgrimage Village Experience combines a sauna, foot massage, pressure- point massage, facial and hair wash.