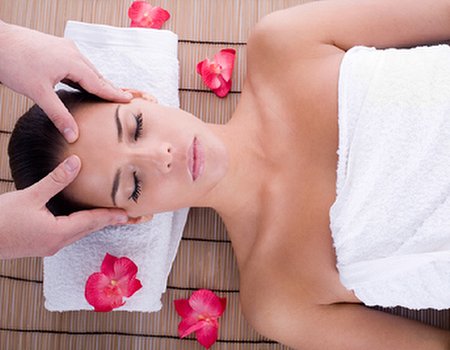 For many a spa aficionado, the great 'east versus west' debate can spark fireworks at a dinner party.
The two practises couldn't be more different. Speaking generally, western styles such as Swedish massage are more mechanical, treating the body as a complex machine made up from lots of different parts working together by cause and effect. Conversely, the eastern view is based on energy: to eastern practitioners, the body is an expression of various patterns of energy channels at work.
While western massage focuses on stroking and kneading the skin and muscles to facilitate relaxation and pain relief, eastern massage — for example Thai, Indian, Balinese and Malaysian — uses the pressing of specific acupressure points to unlock shortages of energy and rebalance the body and mind. Also integral to eastern massage are the practices of yoga and reflexology.
According to Ayurvedic wellness consultant Jamie Chalmers, who runs Rasayana, a British company specialising in Ayurvedic treatments, eastern massage is all about prevention. People in the UK go for massages, but more often than not it's a quick fix — there's very little in the way of consultation. In the east, massage is a way of life, incorporated into daily rituals to improve your health and get to the root of the problem.
The benefits of eastern massage treatments are plentiful, from stress relief and deep relaxation to greater flexibility, increased vitality and a feeling of confidence and general wellbeing. So, if you're yet to discover the ancient healing qualities of eastern massage, perhaps it's time you booked a session and found out what you've been missing?
Best for ... Tension release and mental stimulation
Indian Head Massage The procedure: Shirodhara is a luxurious, purifying experience whereby warm oil is poured continuously and rhythmically over the forehead, or 'third eye'. As the oil flows through the hair and scalp, a gentle head massage is carried out to help soothe and calm the mind and body.
The benefits: Indian head massage is great if you don't have time for something more extensive. Head massages are invigorating and energising, assisting local circulation and allowing tension to lift from the scalp, neck and shoulders. It affects the entire nervous system, helping to reduce stress, fatigue and insomnia as well as providing hydration and nourishment to the hair.
The details: From £160 for two hours at OneSpa.
Best for ... Increased flexibility
Thai Massage The procedure: Wearing loose-fitting clothes that allow for movement, you lie on a padded mattress or firm massage bed while a therapist applies pressure on your body using thumbs, palms, elbows, knees, feet, towels and hot compresses. Be warned: your therapist may pull fingers, toes or ears; crack your knuckles; walk on your back; or arch you into the cobra position.
The benefits: Thai massage is ideal if you prefer not to disrobe or feel the cold easily. The massage is deep, which is excellent for releasing stress and tension and creating better skeletal alignment. The assisted yoga positions — often referred to as 'lazy man's yoga' — increase flexibility, while hot compresses are beneficial for sore tendons and joints, where massage can be painful. Other benefits include improved energy flow and detoxification, and some people even gain confidence and general wellbeing afterwards.
The details: A traditional Nuat Boran Thai massage is from £65 for 70 minutes at Spa by Kasia at the Grosvenor Pulford Hotel & Spa in Cheshire.
Best for ... Detoxification
Balinese massage The procedure: The treatment starts with a stretching of the entire back and is followed by a deep massage up and down the body to induce relaxation. Deep drainage moves are used around the lower back and gluteus to help ease lower backaches and release any tension and fatty deposits. Individual knots are addressed through slow inhalation and exhalation, while the solar plexus, kidneys, spine and acupressure points are all worked on via foot massage — techniques similar to those used in reflexology.
The benefits: The varied movements benefit the body by working deep into the muscles to help ease tension and rid the body of toxins. This stimulating massage is an excellent method of re-energising tired muscles and uplifting the whole body. The stomach massage reduces bloatedness and is even alleged to have a flattening affect.
The details: Balinese massage is available at Ushvani Spa in London from £180 for 90 minutes or £240 for 120 minutes.
Best for ... Rest and relaxation
Malay Massage The procedure: Long kneading strokes and soothing stretches up and down the entire body aim to release tension from muscles and calm the mind, helping you unwind and relax. This makes up the majority of the massage treatment. A deep stomach massage also encourages a colonic cleanse, with attention given to the pelvic floor region. Anyone who's had a baby will know that this area requires constant work and stimulation to maintain its strength and function.
Targeted massage moves are designed to trigger a response in the body that enables the muscles to engage in a pelvic floor exercise. A pressure point drainage-based facial massage, which helps ease sinus congestion, tension, headaches and eye strain, is also included. Arms and legs are then manipulated to release any trapped air within joints and gently stretch out muscles.
The benefits: Malaysian massage is ideal for people who have a hectic daily schedule and find it difficult to switch off, as well as those who have difficulty sleeping, as it encourages the mind to be quiet. The pelvic floor aspect of the massage is especially beneficial for women who have had babies and more mature women, as the elasticity and strength of the pelvis naturally deteriorates with age.
The details: Malaysian massage is available at Ushvani Spa in London from £180 for 90 minutes or £240 for 120 minutes.