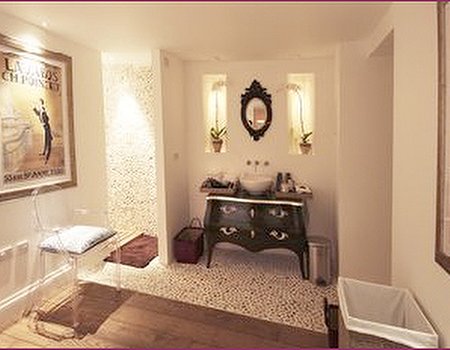 As I was ushered down the staircase into the softly lit spa, with its mood-relaxing music, I felt the day's stresses fade away — this was the perfect place to be pampered.
Once undressed and robed, I slumped into an armchair in the relaxation room to await my treatment — a new therapy by spa brand Yon-Ka, the Massage Oil Candle Treatmen. This involves a therapist burning a candle and trickling it over your body before massaging it into the skin.
Sounds painful? That's what I initially thought but this is no ordinary candle — it doesn't contain any wax meaning it soaks into your skin rather than hardening. The formula of 100% natural essential oils and plant butters help to soften and nourish your skin — don't worry if you've got sensitive skin, the andiroba seed oil is an anti-irritant. Needless to say I was more than a little curious to try out the treatment.
As the therapist got to work, I was surprised how good it felt: I could feel tense muscles starting to relax and my mind drifting. And most importantly the oil never felt too hot on my skin, just pleasant and soothing.
The 60 minutes were over far too quickly but I've now got my own Massage Oil Candle so I can repeat the treatment at home with my partner. Everyone always says how wonderful it would be if you could package a spa therapy and take it home with you well, Yon-Ka has cracked it.
On the menu: Yon-Ka therapies such as the Yon-ka Haute Couture Customised Facial and the Yon-Ka Mum-to-be Treatment. The Yon-Ka Massage Oil Candle is a limited edition treatment so visit www.yonka.com or call T:020 7518 8370 begin_of_the_skype_highlighting              020 7518 8370      end_of_the_skype_highlighting
Signature treatment: Yon-Ka's Deep Cleansing Le Grand Classique, a deep pore cleaning, restoring and relaxing facials.
Cost: Yon-Ka's Massage Oil Candle Treatment costs from £70. Buy the Massage Oil Candle to take home from £48.80.
Verdict: 8/10