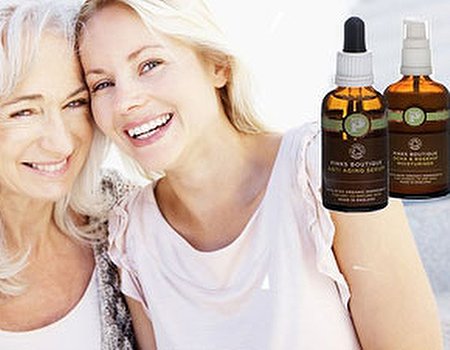 With the Jubilee antics not far away, we're all about Brit fever with so many products and spas to shout about that we've created on our very own turf. One British brand that's making an impact on us at Wahanda HQ is Pinks Boutique, whose beautifully scented candles had us all aflutter recently - and now we're discovering their skincare secrets. As all this changeable and often harsh weather can strip skin of its vital oils and leave us looking as grey as the skies themselves, this organic, natural range of products looked like the perfect pick-me-up to revive lacklustre skin - and makes the bathroom shelf look oh-so-stylish too.
The brand
Produced by Pinks Boutique, these little natural wonders are perfect for those who are conscious about their environment, want pure and organic ingredients and are keen to support home-grown quality products. The company, founded by former Oxford University students Luke Sherriff and Kirstie Allen, grew from both their love of science with their love of the unique aromas and exotic ingredients from their travels in Asia.
Pinks Boutique only use organic ingredients certified by the Soil Association. All of their product formulations are free from skin irritants, artificial colours and fragrances, and genetically modified or animal-derived ingredients. What's not to love?
The products
Pinks Boutique Ocha and Rosehip Moisturiser
Model Miranda Kerr swears by a touch of rosehip oil at night, so it's no surprise that this rosehip-infused product packs some flower power. This nifty and easy to dispense bottle of skin-nourishing lotion is a perfect replacement for your daily moisturiser. Targeted to dry and mature skin, this includes 90% organic ingredients and rosehip oil for reducing wrinkles, sun damage and scar tissue.
Pinks Boutique Anti Aging Serum
With 99.5% organic ingredients, this stylish bottle of anti ageing serum is a classy addition to your makeup bag. Applied regularly to face and neck, this antioxidant rich oil combines rosehip again for reducing the sight of wrinkles, with jojoba, camellia and avocado oils to restore skin cells.
The result
After some crazy weather and a few late nights had zapped my skin of all its natural moisture, these two products couldn't have come soon enough. Although I don't (yet) suffer with wrinkles, my main test was to see if they could give me long-lasting moisturisation rather than reducing fine lines.
The anti-ageing serum has a wonderful glass dropper that squeezes out an ideal amount of product to use - it was more like a facial oil in that sense. After smoothing the rose-scented serum over my usually oily face, I have to admit I was surprised at how quickly the product sank into skin and left a desirable dewy sheen.
The floral-fabulous moisturiser has a light, creamy formula that is easily absorbed for any skin type, and has an ideal texture for daily use. It left skin feeling super soft and I was seriously impressed by its staying power. Initially I used both after cleansing but would recommend using the moisturiser for a daily boost and the serum for a bit of night time repair after your beauty regime. Both the serum and the moisturiser definitely kept my skin looking healthy, glowing and refreshed, and most importantly – it lasted all day long. All hail the power of the organic...
This week, we've got a fantastic offer on this set from Pinks Boutique. With 45% off, this makes an ideal present for a loved one or simply a great excuse to treat yourself...