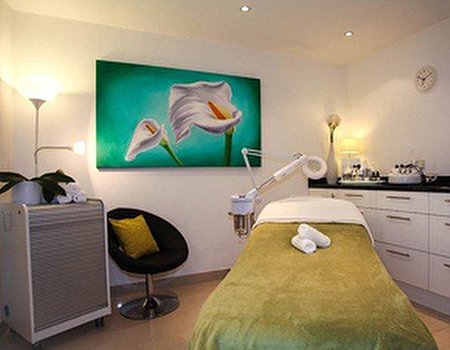 For beauty lovers and those who have problem skin, a regular facial is a must-have to keep looking fresh-faced and blemish free. As a city dweller, I find a build up of everyday fumes can play havoc with my skin, so when Clinica Fiore asked if I wanted to try one of their signature facials I jumped at the chance to discover how my skin can be helped back to happiness with their expert knowledge.
The venue
Situated in central London and just minutes away from Oxford Street and the hustle and bustle of Covent Garden, Clinica Fiore is a convenient stop for both busy workers and tourists alike. Specialising in skin treatments and cosmetic procedures, the clinic is the first place to head for a customised service that focuses on the scientific ways to improve skin.
Standing out in the row of townhouses and businesses with its green front, the inside was clean, fresh and welcoming. Opened by the charming Italian Flavio, the clinic takes pride in its customer-focused approach and top of the range skin expertise. After a quick tour of the different rooms and areas, it was time to settle down on the bed of one of the dimly lit rooms for my relaxing facial.
The treatment
As I have acne-prone skin, a deep pore-cleansing facial that specialises in dealing with and helping my erratic bouts of breakouts was just what I was after. As I slipped into the warm treatment bed, my therapist and Clinica Fiore's manager, Hilary, placed my arms into warming mitts before setting to work on my skin. Various lotions and potions were applied, including a hydrating porcelain mask, deeply moisturising hyaluronic acid, and restorative SkinCeuticals ferulic acid with vitamins C and E.
For an extra treat, my blemishes were zapped with a high frequency hand-held machine that left the area clean thanks to its antibacterial properties, and a manual microdermabrasion used fine crystals to brush away dead skin. It wasn't just my face that got the full treatment either - my neck, shoulders and chest were all treated to a soothing lymphatic drainage massage to help the system cleanse itself, before a restorative serum was applied. Bliss.
The result
After what felt like the longest and most luxurious facial I'd ever had, my skin felt soft and clean and my blemishes looked far less angry and red. A week later, my skin had barely broken out and my pores were less noticeable. Whether this was down to the magical hands of the lovely Hilary, the superpowers of the products or the gentle extraction of nasty build-ups in the skin I'm not sure, but my face looked healthy and clear and I felt better for it. After two weeks my skin still looked and felt great – so much so I'm about to book myself in for another facial...