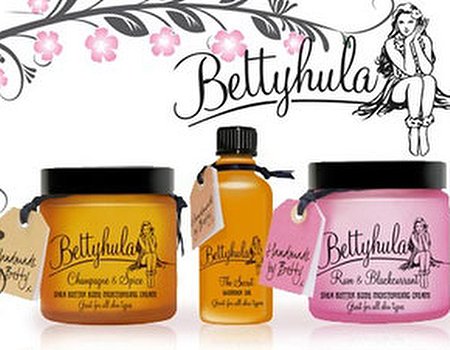 Say 'aloha' to a new moisturising kit. This set from Betty Hula includes Hawaiian-inspired natural and handmade moisturising products and will transport even the most sensitive of skin types off to an exotic paradise. When your skin looks and feels good, you do too, and these vintage bright jewel colour pots are perfect for showing off on your dressing table.
The brand
Betty Hula believes in natural beauty and their core ingredients include a whole host of skin-loving nutrients - and best of all, their products are all wonderfully handmade using traditional techniques and fair-trade ingredients.
The main base for these lovely bright tubs of moisturiser are aloe vera, grade A shea butter, cocoa butter, coconut oil and skin-loving vitamin E, with a variety of sweet-smelling Hawaiian inspired scents added to the mix.
The product
Rum & blackcurrant moisturising cream, Champagne & spice moisturising cream:
Made from shea butter, cocoa butter and coconut oil, these decadent creams are a real treat for skin. Not only are the pots absolutely divine with bright purple and orange glass, but the scents are scrumptious - almost good enough to eat.
The Rum and Blackcurrant tub smells like summer holidays - imagine lying on a beach just as the sun is setting and breathing in the warm air. Capture that smell, squeeze it into a tub and you have the Rum and Blackcurrant body cream.
The Champagne and Spice cream is less strong than its sister moisturiser - it's much more subdued and sophisticated. As we sniffed in the scent, all we could think of were glamorous parties from the 1950s, with long black dresses and cut glass champagne flutes. Even though it's labelled as 'spicy' it's still beautifully sweet and slightly fruity.
These two wonderful body creams have a fantastic texture and the fragrance lasted all day long. Made mostly from natural ingredients, the cream sank straight into the skin leaving behind a beautiful sheen and all-day-long baby soft skin.
'The secret' wonder oil:
Well if we told you it wouldn't be a secret would it...
This wonder oil includes grapeseed oil, avocado oil, vitamin E and jojoba oil for a great all-over body treat. Suitable for most skin complaints, this citrus-smelling wonder is fantastic for stretch marks and improving skin's appearance. A little goes a long way, and this anti-ageing and rehydrating 'secret' oil is a real soother for the skin.
The result
As a lover of anything with a great texture and a long-lasting smell, this set really gets a big thumbs-up. The oil is rich yet easy to use, and the moisturisers are divine in both texture and fragrance. The next day after trying these products, my skin was still super-soft and I could still smell hints of the fruity scents.
This week only, we've got a special offer on this range of three fabulous Betty Hula products. For just £18 (RRP £45.97), you can treat yourself to a slice of tropical luxury...