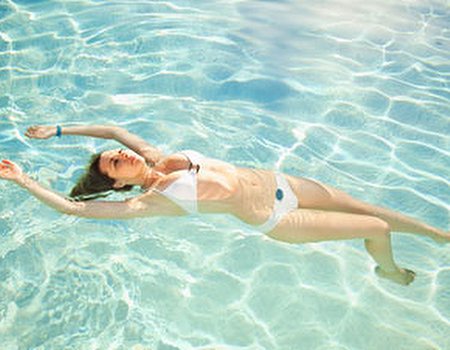 From the Middle East to North Africa, spa treatments focus on using natural resources and transporting you into pure luxury - and luckily the therapies have made their way over to us. Using heat, mud and water to scrub, soothe and refresh, take a leaf out of the Arabian's books and head straight for the spa...
Rasul and serails
Embrace the power of Mother Nature with a healthy dose of mineral-rich mud. Generally based in one room that you'll get to yourself, the private spa treatment is great for soothing the body, moisturising the skin and having fun as you smear the mud on. Super nourishing, the rasul and serail mud treatments are a winner for those with eczema and psoriasis - so prepare to roll around like pigs in the mud...
In many rasul treatments you'll be left alone to apply the mud yourselves rather than have a therapist do it for you, making it a great way to spend the day with a good friend for a catch up and relaxation session. The tiled steam room encourages the absorption of skin-loving nutrients, so the treatment is best to have once you've finished any swimming as the chlorine can strip away all the goodness of the mud. Finish off with a cool shower or an experience shower with differing pulses of water streams to get your body tingling.
Floatation
Much like the Dead Sea, the water used for floatation treatments is packed heavily with salt to mimic the famous lake between Israel and Jordan. Designed so you can experience complete weightlessness, it requires no effort to stay afloat and keep your head above water. So relaxing you might even fall asleep, the body is supported by the dense water and the temperature is kept around normal body heat levels to better enhance a full body floating sensation.
Whether you opt for a floatation pod that creates your own single space of heaven or a floatation room for a group treatment, this water-based treatment is suits all, including pregnant women, children, the elderly and even those who cannot swim due to the Epsom salts holding your weight above water - no armbands required.
Floatation treatments have been found to relieve stress, increase circulation, ease pressure on the joints and muscles, improve concentration levels and boost your sleeping pattern – one float can equal up to four hours of sleep!
Hammam
Also known as a Turkish bath, the Hammam treatment is a long and luscious steam room experience, with exfoliation, massage and a moisturising treatment all rolled into one. A rich part of everyday culture in Turkey and Morocco, the Hammam begins with a steaming session similar to a sauna in a large marble or tiled room, resembling ancient Greek and Roman baths. Using the hot dry air for around half an hour will encourage the pores to expand, the muscles to relax and toxins to be released through the skin.
After you're warmed up and ready to go, a therapist will scrub you down for a full body exfoliation to brush away old skin cells and reveal a squeaky clean and brighter layer. Once you're buffed, a full body massage will knead out knots and tightness before you retire to a cooling room to wind down and rejuvenate. Some Hammam experiences also feature different wash-downs and soapy treats to refresh the body - a true Turkish delight.