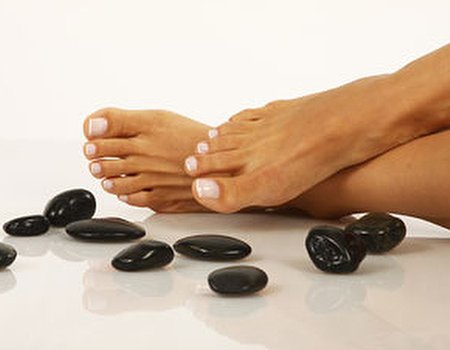 Our precious feet have a hard life, don't they? Whether we're walking to work, standing still or wearing our favourite four-inch heels - our feet have to deal with it all. Most of us commit the ultimate pampering crime too, by paying attention to our face, hair and nails, but not to our neglected soles.
With 26 bones and 40 joints, our feet are a pretty important part of our body. While we love a pedicure for painted toes or a nice scrub before we pop on our pretty sandals, real foot care is still seen as a chore for many of us. Our poor feet, overworked and under loved - let's fix it with our guide to fabulous feet...
Visit a pro
Podiatrists at Carnation Footcare are encouraging women to take a little time out to care for their feet and prevent future health problems. Though we cover up unsightly nails and dry skin, how many of us respond to foot pain? Carnation suggest visiting a podiatrist regularly to get checked out and banish any nasties such as corns and blisters to keep you and your feet firmly together as sole mates.
Feet exercise
Tackling problems from within and giving our feet a mini workout is a great way to reduce everyday aches and pains. Try lifting the heel of one foot up and bending your knee, then gently moving your leg up and down to feel a stretch in your foot muscles. Repeat five times and then swap to the other foot to strengthen feet and keep you moving.
Circulation
If your weary feet are feeling slightly under pressure, why not try a dose of reflexology to kick-start your body again. While going to see a reflexologist might only be a treat for busy lifestyles, new herbal reflexology foot patches Circulation Patch-It support blood flow and help to reduce swelling and discomfort in lower legs by up to 53% more - perfect in this hot weather.
Nail art
Get fabulous feet and top toes with some pretty nail art. One of the best areas to paint with funky designs or outrageous neon colours, you can treat your toenails like a mini-canvas, so revive your crafting skills and get creative. Our Pinterest page is packed with top designs from pretty florals to funky Pucci-esque zigzags; there are even a few well-known social media and recognisable logo designs if you really want to get tongues wagging...
Accessories
While prettifying our feet is a must in our eyes, we also need to protect them. So if those high heels or tight fitting but oh-so-pretty shoes are just too good to resist, help yourself out with some gel pads to cushion the pain and reduce rubbing. Ranges of invisible gel pads now not only protect the balls of your feet, but can be found in smaller sizes to stop slingbacks from annoying the skin or to wrap around sore heels to stop any blisters from appearing. Or, if rough and tough skin is the problem, you can treat yourself to a mini pedicure at home with the MICROPedi - a nifty little device with a roller that spins at 360º, thirty times per second to buff away dead skin.
Fancy giving yourself a foot-related treat? Here at Wahanda we've got a range of pedicures including the infamous fish pedicure, reflexology massages, foot scrubs, Thai foot massages and many more to keep your feet placed firmly on the ground...