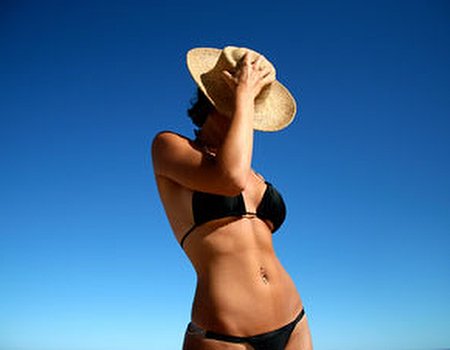 Ready for the summer but not ready for the side effects it brings to your skin? To celebrate Sun Awareness Week and help everyone to become a bit more sun-aware, we've rounded up our five favourite products to pack in your suitcase for those summer holidays...
Mosquito spray:
Don't feel the sting and remember the mosquito repellent. Feeling the burn of a raised mosquito bite is a frustrating and an itchy subject, so always make sure you spray yourself before heading outside. Whether it's in the garden or away on holiday, stop these little blood-suckers from having their next meal or any chance of passing on nasty diseases such as malaria and yellow fever.
Our favourites are the Jungle Formula range, where even those with sensitive skin can repel nasty bugs with a special alcohol-free formula, as well as Andrea Garland's Lemon Balm Body Gloss for a beautifully scented and gloriously luxurious way to ward off the pests.
Cooling gels:
Soothe sore and sunburnt skin with a swipe of refreshing cooling gel. A medicine cabinet essential for those prone to sunburn as well as a way to relieve muscle tension, cooling gels can soothe skin tissue and reduce redness in angry, inflamed skin. It also has rehydrating properties, encouraging water to the surface layers of the skin, meaning that skin can heal faster while you lie back and enjoy the refreshing cold feeling.
Acriflex skin cooling gel has been developed to work with reddened, sore, dry and irritated skin so is the perfect product for your handbag.
Protective shampoo:
While most of us are busy applying sun cream, a large yet very important area of our bodies is often left to sizzle in the sun unprotected. Our hair is a prominent part of our daily routines, so why is that most of us still don't treat it with some tender loving care when we're on holiday or in the sun?
Chlorine, sunlight and salt water can all strip the hair of its natural oils and proteins and leave that mane looking less than perky. Organic range Green People has a shampoo and conditioner range that gently washes away salt and chlorine while rehydrating sun-damaged tresses. Over 80% organic and packaged in handy 100ml tubes, this product may just save the day on scorched locks.
Hydrating sprays:
Another way to keep cool is with a revitalising spritz of hydrating spray. An aerosol full of miniscule droplets of cold water can rehydrate, freshen up makeup and provide instant relief from any dryness or tightness of the skin. Perfect for when you're feeling a little dry while flying or in air-conditioned offices, a mist of H20 can instantly replenish moisture to where your skin needs it most.
The Avene Thermal water spray is ideal for soothing sunburn, sensitive skin and any irritation. Simply spray, wait a few seconds and pat dry for the ultimate rehydration fix, or give a face mist such as the one from AEOS a go for in-flight hydration.
Calming creams:
Accidently overdone it on the sunshine or developed prickly heat? Whilst there's nothing more you can do to prevent it, you can help to work with the skin to lessen and soothe it. If your skin is sensitive to cooling gels and hydrating sprays aren't solving the problem, a skin calming cream could help to regenerate angry skin.
Top beauty brand Pai's Comfrey and Calendula Calming Body Cream is packed full of anti-inflammatories that can help to strengthen damaged skin and fight against irritating prickly heat. For a super skin remedy, add a few drops of model Miranda Kerr's favourite skin product Rosehip Oil for a vitamin-rich cream to speed up damaged skin.