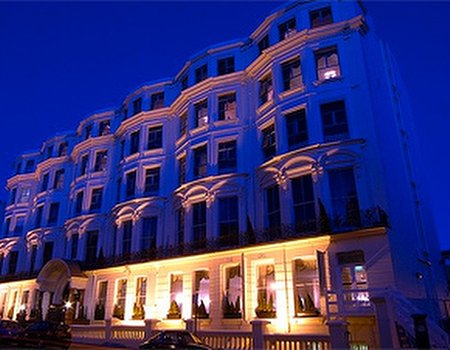 If you fancy a bit of sun, sea and sand with a touch of total relaxation, why not ditch the passport and enjoy a staycation in the UK? With the grandeur of the Jubilee and the Olympic Games firmly placing Britain as the place to be this summer, make the most of our home soil with a spa trip on the coast.
Brighton
Set just a few yards off the seafront, the Lansdowne Place Hotel (pictured) is tucked away between Brighton and Hove's train stations. Minutes from the famous Brighton pier where nibbling on an ice cream and gazing out to sea is a must-do whatever the weather, the Lansdowne Place Spa and Hotel makes an ideal stopover for both sea and spa lovers. Providing luxury hotel rooms since 1854, this is one place you're guaranteed a good night's sleep and an even better massage.
With saunas, steam rooms and private suites where you can enjoy a range of facials, massages and aromatherapy treatments, you can tailor-make the perfect experience that combines fresh seaside air with a sea-infused body wrap.
Blackpool
Climb the Blackpool Tower and head off on a donkey ride along the promenade with a stick of rock in your hand. Once you've explored all that Blackpool has to offer and screamed your way along a rollercoaster, check into a deluxe spa for a weekend break that'll rest your body (and your vocal chords) to the max. The Imperial Hotel is a stone's throw away from the main pleasure beach and The Beauty Rooms on site will treat you from top to toe. The ideal destination for hen weekends, choose from a range of spa days and spa breaks for your group, or pick a massage to rub away the stresses of city life.
St Ives
Nothing beats a trip down to Cornwall to take a dip in the Atlantic Ocean and experience the seaside lifestyle. The small town of St Ives on the North of the county has a delightful harbour and an array of seaside attractions to keep you amused, but of course we'd recommend the St Ives Harbour Hotel and Spa that looks out over the idyllic half mile stretch of the perfect Porthminster beach.
Make a splash in the indoor pool with swimming jets and soothe tired muscles in the hydrotherapy pool, before heading to the spa for a deluxe treatment using the ESPA range of de-stressing and pampering products - you'll want to be beside the seaside for as long as you can.
Need to get away? Check out our spa break offers page for more inspiration.