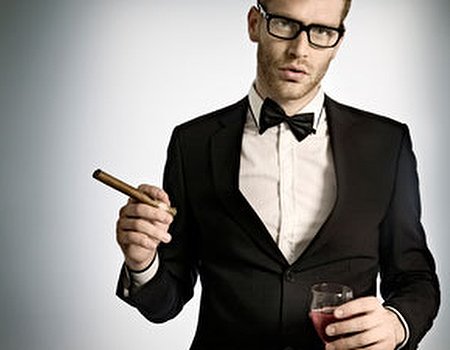 If it's good enough for celebs, it's good enough for our men. With longer working days and stressful lives aplenty, health and beauty treatments are now firmly high up on the to-do list of many British males, and we don't blame them. What better way to relax than with a massage or refreshing facial?
With famous faces such as George Clooney and Brad Pitt openly paving the way for guys to get involved in the wellness and beauty industry, men are getting professional help when it comes to looking good. Whether it's a spray tan to perk up skin colour in time for summer or a waxing treatment to de-fuzz, we've picked out the three must-have male treats to keep groomed looks in check. It's time to move over ladies, the boys are back in town...
Eyebrow shape
Brush away that monobrow and enjoy a quick and pain-free way to tidy up those brows. They say that if the eyes are the window to the soul, then the eyebrows are the frame that displays them. By trimming any stray hairs and plucking them via tweezing, waxing or threading into a neat and natural shape (you won't emerge looking over-plucked - we promise) your face will look more defined and super-stylish.
If you have light eyebrow hair and want a stronger look, try an eyebrow tint that can darken eyebrows ever so-slightly – people won't be able to keep their eyes off yours.
Professional shave
Stubble? What stubble? If you fancy a close shave that will keep you looking well-groomed, only a professional touch will do. Women do love a bit of stubble, but beard rashes are a big no-no. If you want to get up close and personal to a loved one, head to a barber shop for a traditional wet shave that will keep you far way away from developing that 5 o'clock shadow.
Not a cut throat calamity in sight, a professional shave is a relaxing treatment that will smooth and soften skin - and saves you a job too.
Manicure
Tidy hands, tidy mind. Treat yourself to a man-icure to spruce up unkempt hands - no matter how manly you are, rough skin and bad nails are not a good look. By tidying up cuticles, trimming hangnails (those pesky strips of dry skin that can hang around the nail) and giving nails a quick buff and shine, you can make your hands look presentable and super smooth. If you're a nail biter, a nail therapist can tidy up short nails and cover up damaged skin in no time – far better for those strong handshakes.
Are you a colour-fan? Men's nail varnishes are becoming the next big thing thanks to Johnny Depp. With muted blacks and metallic blues gaining popularity, these varnishes are a way to show off your style.
Buying for a man but not sure what to go for? Our Wahanda gift voucher is accepted at over 1,000 venues across the UK so he can pick out a massage treatment, a fitness class or two, or a range of beauty treats to keep him smart and suave.