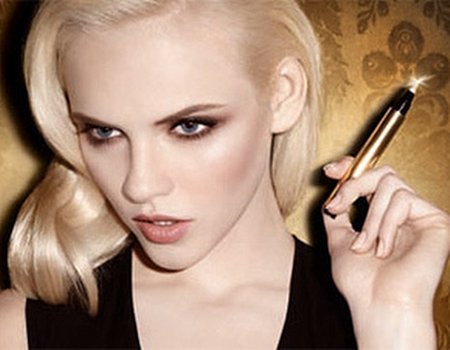 Beauty may be in the eye of the beholder, but that doesn't stop us from loving our magical beauty products - and yes, we do mean magical. Whether it's a slick of red lipstick or a pinch of blusher for a touch of English rose glamour, we're product junkies when it comes to looking our best.
But amid the mix of classic brands and new sensations such as BB creams and mineral powders, there are a few standout must-haves that we women swear by year after year - and it's a rare treat in the world of beauty for products to stand the test of time. We've taken a look at the five products that no woman should be without…
Yves Saint Laurent Touche Éclat
This multi award-winning product in its beautiful sleek gold packaging is, quite incredibly, sold every ten seconds worldwide. A staple product for every woman since its release in 1991, this creamy under eye concealer is the queen of all cover ups. A handy pen that releases a dose of brightening cream to pat onto your shadows, all you need to do is smooth into skin and enjoy wider, brighter peepers. After 20 years of global success, the YSL favourite is soon to be accompanied by a foundation too - so elbows at the ready for 9th July, we predict a stampede...
Elizabeth Arden Eight Hour Cream
This all-in-one beauty secret has been a must-have luxury product for women since its creation in 1930 to soothe and moisturise the skin. Loved by models, beauty editors, makeup artists and millions of females worldwide, this is a true cult classic.
The award-winning cream became an instant success with its combination of petrolatum, nourishing vitamin E and skin clearing salicylic acid and its promises to restore, calm and help relieve dry and cracked skin. The pale orange cream has a balmy texture similar to Vaseline and sinks into skin to protect and combat dryness. Perfect for minor burns, acne-prone skin, dry lips and any areas that feel thirsty for moisturisation, a quick swipe with Eight Hour Cream will quench your needs. If you're not yet an owner of a tube, you have every reason to treat yourself to one...
No7 Protect & Perfect Beauty Serum
When this anti-ageing product first launched, the shops sold out so quickly that once they were restocked, these wonder serums had to be limited to just one per person. After a BBC Horizon programme declared that the serum really did combat the signs of ageing, shoppers across the country were eager to buy this little bottle of promise - with some even camping out overnight for fresh stocks. With demand that high, this anti-wrinkle serum had to be doing something super special - and it's still going strong today.
Here comes the science bit. Packed full of skin-loving ingredients and nutrients, this anti-ageing formula works with the skin directly to produce skin-elasticising proteins which smooth over wrinkles and reduces fine lines - sounds good to us. After six months of usage of Boots' No7 Protect and Perfect, studies showed that 43% had improved the sight of their wrinkles, and after 12 months, 70% recorded a significant improvement in their skin. We think this serum is the bee's knees in anti-ageing and we'll be stocking up just in case they sell out again…
Chanel No.5 perfume
This iconic perfume will forever be the ultimate beauty buy. Launched in 1921, this was the first fragrance to mix scents together to provide a multi-floral and individual smelling perfume, and will eternally be hailed as one of Chanel's, and the perfume worlds', bestselling products.
The recognisable bottle is so classically stylish that it's almost a fashion accessory, and the scent is the perfect mix of floral and sensual - a classic women's fragrance. The scent we all know and love is thought to have been the fifth sample sent to Chanel; this was a hit to Coco's nose and more than $100 million dollars worth is sold each year - and with Brad Pitt as the new face of the brand, who knows what could happen next?
L'Oreal Elnett Hairspray
Back in the day, hairspray was originally more like a hair lacquer that was a struggle to remove from any bouffant hairdo no matter how much you brushed it, but when L'Oreal finally found their winning product in 1960, the hair world was dramatically transformed.
L'Oreal changed the way hairspray worked and introduced Elnett, which with the help of tiny polymers, was able to hold hair in place while allowing it to be brushed out at the end of the day with no fuss. Surprisingly, up until 2010, L'Oreal's Elnett was only available in Europe but now that the hairspray is fully worldwide, it is a must for professionals and women to spruce up hair and keep it looking its best all day long. With various celebrities being the 'face' of the well known brand including our very own Cheryl Cole, these cans of super-hold spray are bought every two and a half seconds in the UK - because you're worth it...