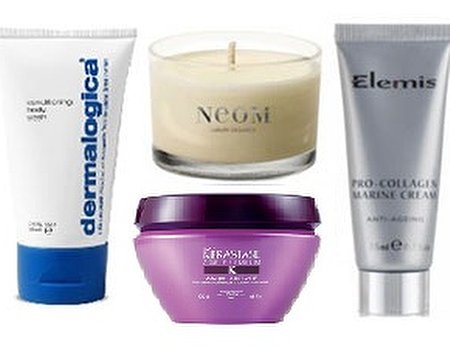 As our holiday and festival departure dates draw closer, it's time to get shopping for all the travel essentials. Whether you're off to camp and dance in a field or going away with friends, take a piece of the spa away with you by making room for these travel-size treats in your bag. Turn your holiday into a five star paradise and make luggage space for these indulgent treats - and they're all under 100ml so they'll even fit in your hand baggage...
Elemis
Don't skimp on anti-ageing when you depart by packing a little pot of nourishment in your case. Facing the effects of weather and changing humidity, our skin can go into meltdown as soon we go away and top of the range skincare to boost moisture levels are a must. Zap dry, damaged skin with the multi award-winning Elemis Pro-Collagen Marine Cream (£26.60 for 15ml) that transports the science of the sea onto our parched faces with the marine extract Padina Pavonica. Becoming a cult beauty buy worldwide within its first few weeks of release (despite the Elemis brand being quite new to spas and salons), two week trials showed a 10% increase in hydration and 19% decrease in wrinkles - we can't think of a better excuse to bag yourself a travel sized pot of deep sea delightfulness...
Dermalogica
When bodies need a gentle pick-me-up, a rich moisturising wash is the ideal way to feel squeaky clean. Head to the shower (or track one down if you're at a festival) and give yourself a blissful spa experience with a skin-loving wash that doesn't strip the skin of any natural oils. A favourite brand for many spas, the Dermalogica Conditioning Body Wash (£11.30 for 75ml) uses soap-free Quillaja Saponaria which originates from the Chilean soap bark tree due to its lathery formula when in contact with water, and it's full of essential oils such as anti-bacterial tea tree, tangy lemon and soothing eucalyptus to nurture tired out limbs.
Kerastase
From salon to suitcase, good quality hair products for holiday are a must – low quality shampoos and conditioners may not do the trick with our frizzy dry hair that craves some tender loving care. A high-end hair salon favourite, the Kerastase miniature sized products are ultra-absorbing and hydrate deep into the hair shaft. The Age Premium range contains pomegranate extracts and a UV filter to help your hair in its fight against the sun and keep coloured tresses at their best. The travel pack (£14.50) contains the Age Premium Bain Substantif (80ml) and the Age Premium Masque Substantif (75ml) to leave hair feeling thicker while the hair masque nourishes both the hair and scalp.
Neom
After a long day, light an aromatherapy candle and unwind by breathing in the sweet air. Holidays and festivals can zap energy with lots of energetic dancing and long walks – so revitalise and soothe in the romantic candlelit glow. Perfect for travellers and often an unthought-of item to pop in your luggage - a travel candle can provide an instant atmosphere setting and a slice of serenity that's ideal when you're far away from home. Neom's luxury organic travel candles (£15) are made with vegetable wax and essential oils and burn for approximately 20 hours. With 11 choices including zingy Sicilian Lemon and Fresh Basil and the Jasmine, Ginger and Sandalwood, there's sure to be a whiff or two that you won't want to leave home without. It'll be your new travelling partner before you know it...
Decleor
We're not forgetting our male counterparts - miniature sized men's products are just as much of a holiday essential. Beginning in aromatherapy and the holistic nature of outer and inner beauty, French brand Decleor are a much-loved range among spas and salons across the world. The Decleor Travel Essentials Kit for Men (£18) contains five must-have products for top male grooming - including a Clean Skin Scrub to remove dead skin away before shaving, Triple Action Serum to soften hairs and moisturise skin before using the miniature Express Shave Foam Gel for a smooth swipe with the razor. Post-shave, soothe sandpaper skin with the Aftershave Fluid and finish the look with a quick dab of Eye Contour Energiser Gel to hide the signs of a few too many late nights.