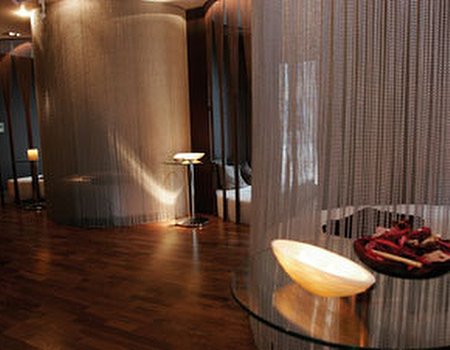 Ladies, this one's for you! The Waterfall Spa in Leeds is the ideal pamper place to rejuvenate stressed minds and relax in style. With the emphasis placed on luxury, every inch of this spa is dedicated to you feeling your best.
The spa
Located in the city centre and a stone's throw away from Leeds' main rail station, this women-only day spa (sorry gents!) focuses on what most women want, with top-class treatments and equally sumptuous surroundings to create a lavish treat.
Opening in late 2005, Waterfall Spa was voted Yorkshire's Top Spa by the Sunday Times in 2006. Soon after opening, the spa introduced their own range of tailor-made beauty and body products, and these can be bought to re-create your own little slice of luxury at home after your trip.
With over 40 treatments to choose from, whether you fancy an algae body wrap or a coffee skin pamper, you'll soon be slipping into that fluffy white robe and dreaming away...
Treatments and facilities
With a hydrotherapy pool to bubble all your stresses away and a sensual aromatherapy room to soothe and refresh, this idyllic Yorkshire spa has it all. The Norwegian Tropicarium is just one highlight; similar to a sauna, the heat is kept considerably lower at around 80°C to open the pores and allow perspiration to gently remove toxins. The Tropicarium can aid the strengthening of the immune system and help with conditions such as asthma and bronchitis too.
While you wait between treatments, a boudoir room is available for a little snooze or some group time for you and your girlfriends. With the emphasis placed firmly on indulgence, guests can enjoy a selection of fresh fruits dipped into chocolate or a glass or two of champagne for an extra extravagant day.
Treat yourself
Whether you fancy a spot of pampering or a full-on girly day of shopping and relaxing, we think the Waterfall Spa is the place to be. Set in the heart of Leeds' city centre, this is an ideal haven for busy women who need to escape and be spoiled, pronto. Pop on over to the spa's dedicated page on Wahanda for a full range of treatments and offers - including bride-to-be packages and special anniversary treats for the upcoming wedding season...
If Leeds is slightly too far for you to travel, why not check out our other great offers at top spas across the country?