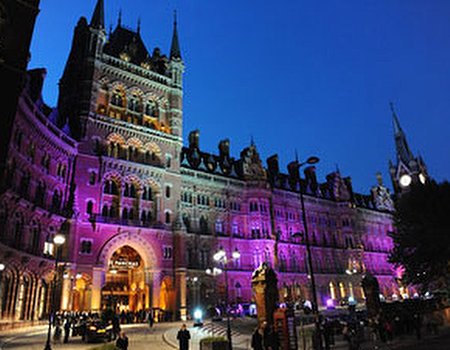 Take a breather from busy city life and embark on a journey of pure relaxation. Found in one of London's biggest and busiest train stations, the St Pancras Renaissance Spa is ideal for tired travellers who need to take a break. Set underground in the iconic Victorian building in Central London, this spa is inspired by its adjoining travelling routes to offer you a first class ticket to tranquillity. All aboard...
The spa
Found deep in the underground kitchens of the original Victorian location, the restored St Pancras Renaissance Hotel now encompasses one of the finest spas in London. Voted the number one hotel in the UK by The Sunday Times Magazine and the best city spa by Natural Health Magazine, this is an indulgent getaway retreat for a serious dose of pampering in one of London's most loved buildings.
Designed to be calming, the sleek look of the spa is matched with its attention to detail. With beautiful soft furnishings inspired by trips across the world and spacious areas to unwind and rejuvenate, it's quite the spa haven - just what busy Londoners need.
Treatments and facilities
The impressively sleek spa offers Indian Ayurvedic massages, Japanese facials and various scrubs from Thailand to pamper you with worldly treats. Enjoy using the Victorian tiled relaxation pool, an aromatherapy and eucalyptus steam room, saunas, relaxation area and six treatment rooms including a private suite for couples or loved ones to unwind in peace.
Treatments include papaya scrubs and floral facials, or for a trip of a lifetime take a ride on one of their specially designed 'journeys' which combine particular rituals with your own tailored needs - pick from a journey to Africa, India, Indonesia or the Silk route. We might need a round the world trip...
Also on the treatment menu are a range of massages such as hot stone, Balinese and traditional massages of the Orient. There are many exclusive treatments named after the hotel and spa which are designed to work with your skin type for a completely bespoke treatment - involving Swedish massage, deep tissue work and finding your pressure points.
Treat yourself
Whether you're a London dweller or passing through on a trip, this central spa is perfect for combining travel with luxury. Situated a stone's throw from London's Eurostar terminal and from trains that operate to and from the North, East, South and West, this central spa is the ultimate way to start or finish your journey. Take a look at your diary and see when you're next in the area - our booking system means you can plan your pampering in advance, so simply select the Spa Day Pass for 1 offer for either Monday-Thursday or Friday-Sunday and book your date in a matter of minutes. Perfect for squeezing in a bit of me-time during the busy 2012 Olympic and Paralympic Games, you'll soon be enjoying world-class service at this city hotspot...