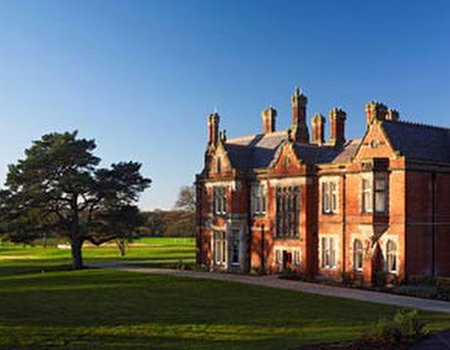 Whether you're looking for a luxury spa, a wedding venue or a place where you can tick off all your pampering needs on the pre-wedding checklist, Rockliffe Hall is the ideal destination. With the matrimonial months in full swing, where better to slink off and relax than a five star spa? A great backdrop for hen parties or a girly spa break, we're looking for any excuse to visit...
The spa
Found just outside Darlington in County Durham, the 18th century estate Rockliffe Hall is a five star destination set on the banks of the River Tees. Winner of Visit England's Large Hotel of the Year 2012 and North East Tourism's award of the same name in 2011, this picturesque hotel not only has a sumptuous spa but a golf course on site too, as well as a separate area for weddings and conferences and three restaurants to boot.
Treatments and facilities
The 50,000 square foot spa area is well suited for large parties to indulge and relax at their leisure. Taking their star status seriously, butlers will wait on you hand and foot to provide refreshments with a constant top-up of champagne and soft juices. If a slice of solitude is more your thing, there's a private VIP area so you can unwind in style.
This is one place where you won't get bored: a multitude of extravagant facials and massages are available, or for a day of health and happiness take a dip in the 20 metre swimming pool and try out all the experiences on offer. As well as saunas and steam rooms, Rockliffe Hall has a Roman-bath style tepidarium with heat rising from the floor, a Roman caldarium with hot steam and a hotter bathing area to awaken those pores, and an indulgent tropicarium to act as a happy medium between a dry sauna and a steam room.
Rockliffe Hall's signature treatments exfoliate and rub down the muscles to bring your stressed-out body back to life. The divine two-hour long Sacred Moments treatment smoothes over tired limbs with a rejuvenating body scrub and full massage using hot poultices (a tight bag full of nourishing ingredients) followed by a full facial treatment and head, shoulder and neck massage. Afterwards, head back to the main area and take a lie-down on the sound wave therapy beds to soothe your mind and body further. Now that's what we call five star...
Treat yourself
Whether you choose to visit Rockliffe Hall for a quick treatment, a spa day or a spa break, it's so vast that it's worth taking a few loved ones along too. Want a good deal? The Spring Splendour day is bookable seven days a week and includes full use of the spa's facilities as well as a delicious two course lunch and a treatment of your choice. We think you deserve it…