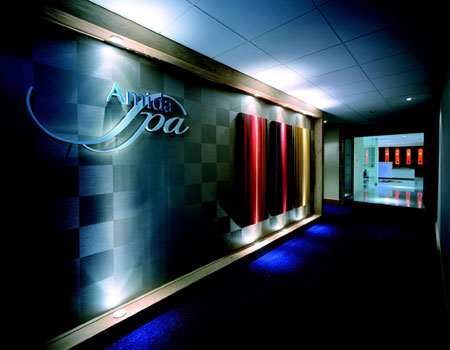 The decorations are out, the lights are on and Oxford Street is already heaving with early shoppers checking off their Yule-time lists. It's official: Christmas has arrived in the capital (albeit a few weeks early). Whether you're a resident, in town to visit rellies or getting ahead on your Christmas shopping, there's a good chance you'll find yourself in need of a break from festive frenzy over the next few weeks. Don't have a nightmare before Christmas, take a trip to one of our favourite havens in the capital: the prestigious Amida Spa in Chelsea. This week's spa of the week…
The spa
Forget the crowded department stores, leave behind your traffic woes and head West this December to the exclusive Chelsea Harbour Club. Tucked away in the peace and quiet, Amida Spa offers a unique combination of Eastern techniques, Western technologies and plush surroundings to stressed out city dwellers. This exclusive venue has been rated highly by spa-goers nationwide and was once the place of choice for Princess Diana.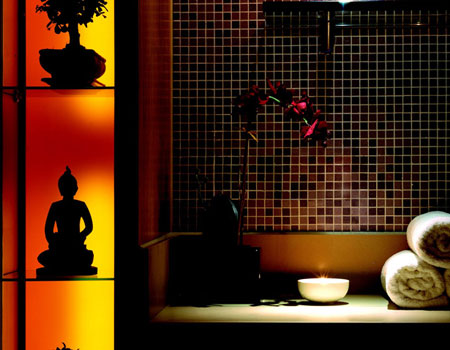 Inside one of the spa's treatment rooms
Treatments and facilities
Shepherds, angels and halo-therapy. If you fancy something a bit different this Christmas, Amida's thermal facilities might be just what you need. Take a breath of fresh air in the salt filled halotherapy room, or work up a sweat before cooling down at the ice chute (great for tightening those pores and smoothing skin before Christmas parties). Too chilly? Then stick to something warmer like soothing the mind and body in the aromatherapy rooms and sanarium (a bit like a sauna but more comfortable thanks to lower temperature and high moisture levels) before enjoying a quick doze on one of the heated beds, perfect for reducing joint stiffness and relaxing overworked muscles.
The spa's 25m pool
With luxury treatments for all, including tailored men's treatments and mum-to-be massages, Chelsea Harbour Club is a great escape for when you need to pep up tired faces and soothe aches and pains. Perfect for this time of year they also offer a range of festive services to help guests prepare for party season (the Rodial boob job to perk up the décolletage for instance), fight off a cold (the Aromatherapy Associates Immune Recovery) or simply get away from it all with full days of pampering. The new Winter Warmer spa day, for example, includes one 55 minute treatment (either the Aromatherapy Associates Intensive Muscle Release Massage or Aromatherapy Associates Essential Rose Facial) a light lunch, full use of all wet spa and gym facilities, a robe, towel and even slippers. Don't mind if we do, thanks,
Treat yourself
Whether you're looking to escape the cold, get out of festive prep or find that perfect gift for the person who has everything, the warming facilities at Amida spa have it all – including exclusive festive spa days. Take a look at Amida's page where you can book treatments and buy spa gifts now.