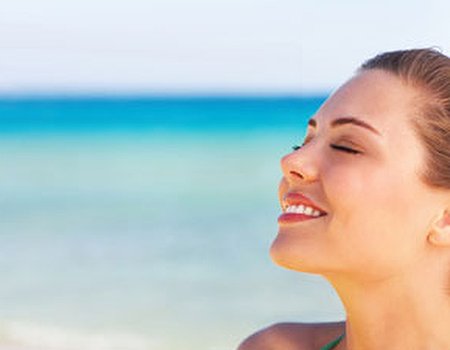 Sail away into an ocean of relaxation with a sea-themed treatment. If you love everything about the coast, then why not embrace its natural healing powers and get saltwater-happy with beauty products and treatments that are full of its best bits. Packed with vitamins and minerals that may not be found in normal diets and perfect for drawing out toxins from the skin, there's no better reason to treat yourself to a product from the high seas. Oh we do like our skin to be beside the seaside...
OXY Natural Skin Science:
One of the leading brands in caring for spot-prone skin, OXY has helped treat the problems of blemishes and oily skin for both teenagers and adults for over 20 years. Now, with the help of brown seaweed of all things, OXY has developed a powerful yet gentle way to improve skin tone and texture even further.
The new Natural Skin Science range includes zinc sulphate for its anti-inflammatory and anti-bacterial properties, and when mixed with Phycosaccharide AC -an ingredient found in brown seaweed - it can help to reduce excess oils while moisturising the skin. Containing no alcohols or parabens, this dermatologically tested range directly targets the skin to remove blockages from pores, reduce redness and swelling and keep skin looking healthy and shine-free. Tests show that the new OXY range can reduce the size and redness of spots in just four hours, and 61% of young volunteers saw a change in their skin within just 56 days. It's not just for teenage skin either; this range is designed for anyone who suffers from breakouts.
Dead Sea Spa Magik:
Using the natural healing powers of the Dead Sea, the Dead Sea Spa Magik range has been balancing the skin's levels of minerals for over 30 years. A well-loved product for treating a variety of skin and hair conditions, the allergen-free products are suitable for sensitive skin types so anyone can reap the rewards.
Using the high levels of magnesium and salts from the one of the saltiest bodies of water in the world, the products can restore skin and help to recreate a full and indulgent spa experience right at home. The Dead Sea Spa Magik range includes masks that use the mineral-rich mud from the Dead Sea itself, while hair serums and moisturisers use the minerals and salts floating in the water. Loved around the globe and with a big celebrity following such as Elizabeth Hurley and Victoria Beckham (and let's face it, they look pretty good), nature's finest can be used all over the body for rich moisturisation.
One favourite here at Wahanda HQ are the Dead Sea Spa bath salts which can be used as a full body scrub to brush away dead skin and boost lymphatic drainage. Naturally packed with magnesium and potassium, the salts deeply relax the body and soothe aches and pains as well as helping with dry skin conditions such as eczema and psoriasis.
Seaweed body wrap:
Why should mermaids have all the fun? For the ultimate sea experience, treat yourself to a full body wrap using seaweed and algae. Scientifically proven to assist in the removal of toxins from body tissue by encouraging them to bind with naturally eliminated salts, an algae and seaweed wrap can help you lose inches from your body - just in time for those summer holidays, too…
Body wraps cleanse and detoxify the body but they're really rather relaxing too, so you get the best of both worlds. The skin absorbs the nutrients and minerals to moisturise and to encourage the dispersal of fatty deposits,and they're perfect for tackling cellulite and water retention.
As you relax in peace after being coated in ocean goodness and wrapped up, the naturally occurring iodine speeds up the metabolism to help you lose fat from deep within. You may be lucky enough to notice the difference after one treatment, but most therapists would recommend five or six to see a dramatic improvement.
One celebrity fan of this treatment is Liam Gallagher. Yes, the former Oasis front man swears by seaweed wraps - so if you fancy whisking your man off for a spa day with a sea-themed treatment - remind him what musical tough guy can't resist the slimming powers...