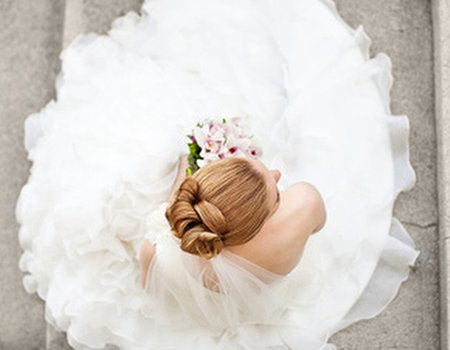 Now that the good weather is finally on our doorstep, everyone's nuptial-crazy and we're gearing up for a summer of love. Whether you've just got engaged or you're walking down the aisle in a matter of weeks, planning is key; we are, of course, talking about your beauty regime.
Nothing's more beautiful than a chilled out bride who's feeling tip-top and looking a million dollars, so to help you reach the altar in your finest form we've made you a must-have treatment checklist. From playing with hair colours to getting a flawlessly faked golden glow, we've worked it all out - so put the wedding folder down, relax and say 'I do' to these bridal beauty fixes…
12 months to go
You've found the partner and you've booked the date – congrats! Now it's time to plan how to look your best in front of your beloved family, friends, colleagues, and of course the obligatory aunties who still pinch your cheek and tell you how much you've grown. A year in advance is ideally when you should kick-start your nutrition and fitness regime, so that your dream dress is worth every penny. Start using the local gym or join a dance class to tone your body up from top to bottom, and get set to eat a little better to make sure both your body and skin dazzle on the big day. Now's a good time to dabble with different themes, and Wahanda's bridal mood board is a fabulous place to start gathering those all important ideas.
6 months to go
Here's where you start nailing down the beauty details. Whether it's by booking in for that course of laser hair removal you've always wanted or finding the perfect hair colour, this is your last chance to experiment - so take a leap of faith and try something new while pinning down what suits you best.
Want the perfect smile for the perfect day? Start a course of LED whitening or bleaching for your teeth. Stubborn thread veins on your legs? Get them lasered now to make sure your pins are perfectly smooth for those honeymoon snaps. Always wondered what you'd look like as a blonde? Start testing and decide on your bridal style now before those wedding chimes get going…
One beauty trick that is so easy to forget yet so essential for the wedding album is grooming those brows. A professional eyebrow shape and a light tint can work wonders for lifting your complexion and framing your features – seek the advice of a brow expert now so that you've plenty of time to grow the perfect pair.
3 months to go
With just three months left, you need to confirm all your appointments and avoid becoming an overly-stressed Bridezilla. If you're opting for a wedding hair expert to give you a glossy up-do before you walk down the aisle or a makeup artist to professionally prettify your best features, now's the time to whip out that diary.
When it comes to hair, less is always more says Kerry Capewell, Hair Colour Expert for the UK Hair Colour Helpline: 'Try and keep hair as natural as possible - maybe using low lighting/highlighting techniques, in two shades either lighter or darker than your natural shade, as this creates a more subtle change of colour. Remember, you want to be pleased with your wedding photos for the rest of your life - fashionable shades may look great now but perhaps not in 20 years!
If changing your hair colour permanently is a little scary then opt for non-permanent such as Naturtint Reflex, £9.99 - you may want to try this four weeks before your wedding to ensure you have the perfect shade for the big day.'
At the three-month mark we would recommend booking a course of regular facials to keep your skin in check and a course of body wraps to rid you of any excess toxins and water, helping you to shrink that waistline and glow from the inside out.
1 month to go
With your skincare and body regime in full swing, this is where practice makes perfect. If you're planning on getting a spray tan for the day, try out your desired shade now to avoid an orange nightmare; it will also act as the base for testing out your makeup, since colours will look different on pale skins to golden skins.
Keep up that hair preparation too - Kerry recommends a testing session a month in advance: 'A month or even 6 weeks before the big day, do a full trial run of your wedding style, including your headdress and any other accessories you plan to wear. If you complete the trial run in a morning, try wearing the style for the rest of the day to see how comfortable it is and how it lasts throughout the day. You can also use this time to ensure you have planned the timings of your big day correctly to allow enough time for styling and finishing.'
With your makeup artist (or with help from a friend if you're going solo), decide whether to go for a classic smoky eye and nude lip, an iridescent shimmery natural look or even a strong lipstick and simple flick of liner to make the colour in your eyes pop – then rehearse it until you get it just right. Not only will it prepare you for the camera flashes, but it will also pinpoint what areas could do with a little extra highlighting, as well as testing for any product issues. Stick to what you know – no new brand is worth a skin reaction at this point.
Don't forget your bridesmaids need to make sure their makeup complements the dresses, and their hair suits the necklines - so get the full wedding party in for a trial makeover.
1 week to go
Ladies, the countdown is on. Now that you've put in the hard work, the finishing touches are all that's left. As well as a pedicure to treat feet before sliding into those Cinderella heels, a two-week manicure will stay extra glossy and chip-free – and if cared for properly, they should last you right through to the end of your honeymoon.
Before getting your carefully crafted spray tan, waxing is an essential. No bride wants to be caught off guard with stubbly legs as they slip into their gorgeous wedding dress, so book yourself in and keep hairs at bay for up to ten days.
1 day to go
The big day is nearly here – hurrah! Make sure all your beauty essentials and outfits are in place and if possible, pack an emergency bag of essentials to combat any possible crisis that may occur. Whether you leave it with your bridesmaids or with your proud mum, keep items such as a sewing kit (safety pins are always handy), baby wipes, perfume, deodorant, face powder and hair grips close to hand.
Most importantly, head to bed and have some well-earned rest. Though we're sure it feels like being a kid at Christmas, a lack of sleep can ruin all the hard effort you've put in for the past year. We know your man loves you no matter what you look like, but bloodshot and puffy eyes are a bridal no-no. Get some good quality sleep and most of all, enjoy every second.