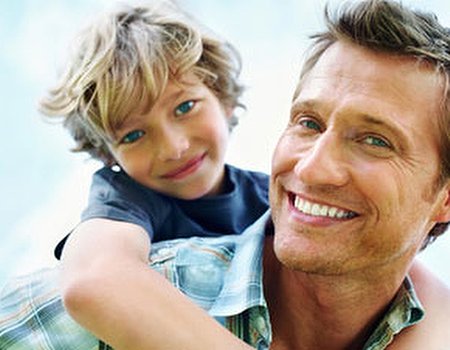 Happy Monday Wahandarers and welcome to another week of wellbeing. This weekend is Father's Day (Sunday 17th June) and we're looking forward to showing our wonderful dads just how much they mean to us - without them wondering what we're after for once!
If you're stuck on what to treat them to (men, you're a tricky bunch) we've got plenty of ideas here at Wahanda. Whether you give them a chance to groom with a professional shave, a new haircut, a tailor-made men's facial to help their skin glow or use our bookable spa day feature to plan ahead, you can be sure to give your dad a lavish surprise this year. New research suggests that male grooming is significantly on the rise, so who are we to argue…
Good news
If you ever need a good excuse for a lie-in, we've found it - so switch that alarm clock off and treat yourself to an hour or two of extra sleep. New research has found that sleeping less than six hours per night can increase the risk of a stroke, meaning that a few extra hours of good quality shut-eye really is important for healthy wellbeing.
The University of Alabama studied more than 5,000 participants over three years, and found that those who slept for less than six hours a night on average were more likely to develop high blood pressure and experience dizziness, sight problems and trouble with speech, which are all classic precursors associated with strokes. As well as heart problems, lack of sleep can also lead to unnecessary excessive eating and swapping healthy fruit for an overload of caffeine. Sound familiar?
Juggling work, children and general stress, many of us are waking up early and struggle to keep our eyes open throughout the day - so use this research wisely and treat yourself to a large dose of sleep. We suggest popping an eye mask on, breathing in some essential oils and going to bed just a little earlier to be sure you get a good kip.
Top treats for the week ahead:
Makeover and Photo Shoot For Two with Beauty Treatments and Framed Prints, £19 - Feel like a supermodel with this half day of being pampered and preened before a glitzy photo shoot to snap you at your very best. Treatments include manicures and facials before having your hair styled and makeup applied while sipping on a refreshing drink or two. Afterwards, all you need to do is pose and smile as part of this luxury magazine style shoot. Say cheese!
One Week of Tailor Made Meals from Jane Plan, £32 - Start that beach body preparation off with a bang with this fantastic offer of a full week's healthy food hamper. Tailor-made to your requirements, including wheat-free, dairy-free and vegetarian, this hamper includes seven breakfasts, lunches, dinners and snacks as well as a nutritional consultation.
Body System Shake Gym, £10 - Made popular with celebrities and TV personalities, this Shake Gym is the perfect solution for targeting those 'bingo wings'. 1.5kg in weight, both ends of this dumbbell move to create a vibrating sensation that travels up to the upper arm muscles to create a defined and toned upper body.
If you try one new thing this week, make it...
A professional men's shave. With Father's Day this Sunday (don't forget!) why not treat your dad to a close shave that will leave his face looking super smooth and feeling baby soft. We promise it won't be a hair-raising experience a la Sweeney Todd...
An old tradition, the practise of the perfect shave with shaving cream, a badger-hair brush and a sharp blade was usually one of the lessons for a dad to teach his son. Now you can ditch the razors and the scraps of tissue to stick to bleeding nips and cuts, and opt for a nice tidy-up at the hands of a pro.
Need an extra spot of motivation in this wet weather? Head over to our Facebook page for an inspirational quote to get you ready for anything this week...