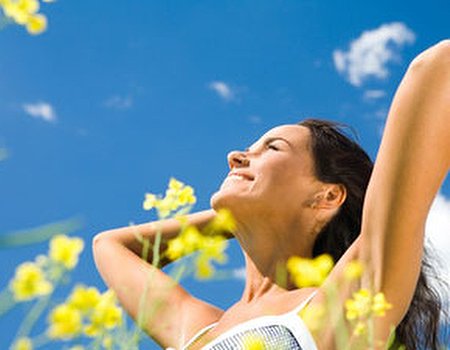 Runny nose, itchy eyes and sneezing your way through the day? You might be one of the 12 million hay fever sufferers in the UK. While everyone else is celebrating the arrival of spring, you're probably stocking up on tablets and tissues. With allergy season well underway and National Allergy Week coming up (23rd-28th April), we've created a guide to recognising hay fever and the best ways to naturally combat the sneezes once and for all...
What is hay fever?
While the name suggests you might get incredibly hot by visiting a nearby stable, it's actually a reaction to different pollens transported through the air in the wind. The name originates from the way that pollen sticks to hay in the countryside, but it's now argued that increased levels of pollen occur due to the particles actively sticking to diesel fumes which makes city life even tougher for sufferers.
What are the symptoms?
Symptoms can include puffy eyes that water, a dry or itchy throat, piercing headaches, sneezing, difficulty breathing, itchy eyes and a runny nose. Depending on the time of year that your symptoms develop, you may be allergic to grass pollen (May-July), tree pollen (February-June) or weed pollen (September-October). If you're allergic to all three, you may suffer a prolonged season of hay fever better known as rhinitis.
Treatments for hay fever
Many hay fever sufferers depend on over the counter remedies such as anti-histamines or eye drops. This can be an expensive method that only temporarily helps the allergic reaction and often come with added side effects - not helpful if you're already struggling to get on with your day.
If you'd rather be allergy-free without popping any pills, we've discovered three natural therapies that might just help you out…
Acupuncture
Traditional acupuncture involves placing small needles into specific meridian points of the body to help the flow of Qi (pronounced 'chee') and encourage blood flow while releasing blocked energies.
Don't be put off by the sound of 'needles' - they are barely inserted into the skin and the likelihood is that you may feel nothing at all.
The British Acupuncture Council reveal that the therapy can relieve those pesky symptoms by:
Regulating levels of proteins that are capable of producing allergic reactions
Stimulating nerves located in muscles and other tissues, which lead to the release of endorphins and changes the processing of pain in the brain
Enhancing natural killer cell activities
Aiding the dispersal of swelling around the body
Accredited practitioners can be found via the British Acupuncture Council on 020 8735 0400 or visit www.acupuncture.org.uk
Homeopathy
Homeopathy involves giving highly diluted substances to trigger the body's natural system of healing. Relying on treating problems and illnesses on a 'like-for-like' basis, homeopaths believe giving a solution of something similar to the cause will help to immunise us against it.
Homeopathic remedies include pollens, grasses and other substances which are picked based on what it is that sets you off, and then used to ward off hay fever symptoms.
Halotherapy
With hay fever, the pollen spores are breathed in through the nose and mouth. As these pollen spores are transported through the body and enter the lungs, they set off a reaction which causes those unbearable symptoms.
Halotherapy might help. Also known as salt therapy, the treatment involves breathing in a room where particles of dry rock salt are ground up and circulated in the air. They then penetrate deep into the respiratory system, and the theory is that it cleans out the mucus blocking the airways and helps reduce inflammation because salt has natural anti-inflammatory properties as well as anti-bacterial uses. Who knew?
So if the screen is looking a little blurry thanks to your streaming eyes and you've got your tissues at the ready, why not book yourself a session with an expert today – the grass is most definitely greener on the other side…