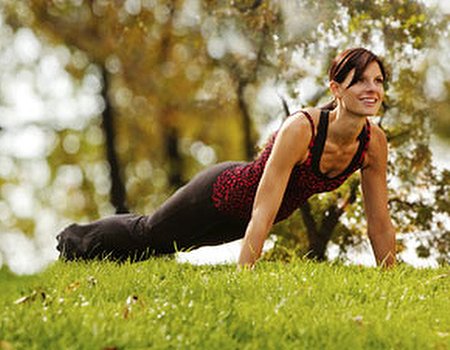 Ladies, the gym's out for summer. With a 52% increase in women choosing to exercise outside since 2007, the hottest fitness trend today is breathing in some fresh air while you workout.
Shock Absorber, the UK's leading sports brand, conducted the survey and found that women are now ditching the gym in favour of embracing the good British weather and getting out there. A third of all women surveyed felt that they were pushed to workout harder thanks to being inspired by the far more interesting surroundings.
Preferred outdoor exercises included running and cycling, but new fitness trends have also impacted on the survey. Buggyfit, where new mums exercise together outdoors behind their prams, and British Military Fitness where you can get fighting fit with former soldiers, now have almost 1 in 10 women taking part.
As well as being a good solution to rising gym fees and our purse strings becoming tighter, going out to exercise can bring many health benefits too. The University of Essex's Dr Jo Barton stated:
"Green exercise offers unique benefits compared to working out indoors. It significantly improves mood, self-esteem and restores mental fatigue. Added to this, people work harder when in a natural environment but perceive their workout to be easier. Training in the great outdoors also provides essential variety, especially with the changeable British weather– this maintains interest and reduces dropout whereas keeping fit indoors is more predictable."
Shock Absorber has launched its 'Get Out There' campaign to promote the benefits and encourage women to share their inspirational places to train. With locations such as the White Cliffs of Dover and the Brecon Beacons being voted as some of the best places to workout and grab an (hopefully not too) breathtaking view, we're not sure the treadmill is enough for us anymore...