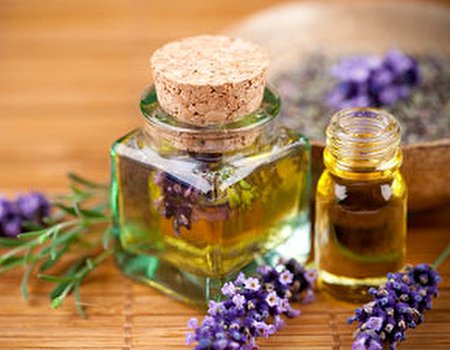 Get some flower power. As a fan of all things floral, we're celebrating the Chelsea Flower Show (22-26 May) with a selection of our favourite natural treats for skin, body and mind. With brightly coloured petals and sweet smelling aromas, flowers are a wonderful addition to the garden and the home, but we prefer to use them in our pamper regime to make the most of Mother Nature. Get back to your roots and enjoy our blooming lovely array of floral treats....
Lavender
Banish away sleep problems with lovely lavender. The calming fragrance of the purple bush can help us to relax and drift off into the lad of nod. Believed to directly increase alpha waves in the brain where sleep is associated, this safe and natural essential oil is an easy way to soothe and prepare for bedtime. Add a few drops of lavender essential oil onto your pillow or add to a warm bath to help unwind...
With our summer holidays coming up, we were delighted to find out that lavender oil is a natural mosquito repellent. One of only a few oils that can be directly applied to the skin, this multi-use treat can be worn as a perfume to smell sweet and fend off insects - perfect for balmy summer evenings and sensitive skin alike.
What to buy: Lavender Essential Oil 10ml (£4.85 for 20ml) available from www.naturesbest.co.uk. One of the few oils that can be safely used in small amounts straight on the skin, it is also ideal on a burner or why not try adding a few drops to your night-time bath. It can also be used as a mosquito repellent when worn as a perfume, added to your shampoo or massaged into the skin when mixed with a suitable carrier oil or lotion - brilliant!
Witch Hazel
Avoid a dot-to-dot and get clear skin. Witch Hazel has long been associated with helping to tackle spot-prone skin for most skin types. Originally used by American Indians to treat swellings, this natural astringent can help speed up recovery on blemishes and keep oily skin at bay.
We think this beauty product is best used by dabbing onto cotton wool and swiping over the face to help keep skin looking clear and at its best, or for sore areas dab directly on and let the magic do its work. Recently, witch hazel has been linked to protecting the skin from sun exposure too - there's no end to it's natural talents.
What to buy: Care Witch Hazel: Tried and trusted by generations, this gentle formula cleanses and tones skin leaving it fresh and full of life. Sweep over the face and neck area to remove makeup, excess oils and any impurities.
Aloe Vera
With scientific studies linking the gel of the aloe vera plant to the healing of UV burns, this product is great to take with you wherever you go this summer and use when you've accidentally scorched your skin in the sunshine. It has also been linked to anti-ageing thanks to its enhanced collagen formation, and the aloe vera plant can even be used orally to treat abdominal cramps and diarrhoea. Clever!
With its revitalising properties and skin resolving abilities, we love to pack a tube of aloe vera gel in our suitcase when we jet off on holidays. If you're lucky enough to have a fridge in your room, pop it in there for a super-cooling and refreshing moisturiser to soothe the sore pains of sunburn.
What to buy: Aloe Vera Skin Lotion: A daily hydrating lotion based on Organic Aloe Vera enriched with cocoa butter, Shea butter, olive oil, sunflower oil, Irish Moss, vitamin A and E. Soothing and restorative, an excellent moisturiser suitable for use on dry, irritated skin. Non greasy formula. £6.29 from Holland & Barrett.