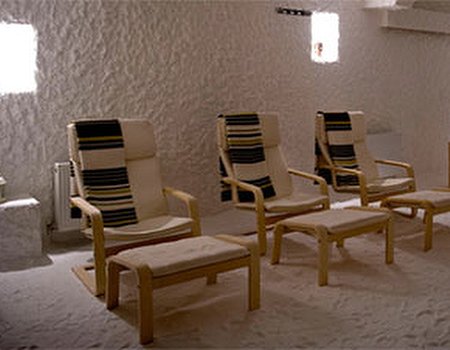 We've been fans of salt therapy (or halotherapy to be precise) since we first discovered it had launched over here, thanks to its promise to beat respiratory problems with a sprinkle of salt and to give you the chance to enjoy a big gulp of fresh air – which makes a real change in the Big Smoke. Since it first arrived in London, the Salt Cave phenomenon has spread through the UK and now has four locations nationwide.
We know that eating too much salt is bad for us, but those little grains on the dinner table might help to rid you of breathing difficulties and allergies. The treatment involves relaxing in a man-made salt cave, is completely drug-free and even safe for children to use. As you lie back, relax and take deep breaths, the salt in the air reaches into the very corners of your lungs. This helps to fight any bacteria, excess mucus and reduce the inflammation that can cause pesky problems such as asthma, eczema, bronchitis, sinusitis, psoriasis, or even hay fever.
Interested? If you're in Scotland and are looking for ways to beat asthma and other respiratory issues, it's your lucky day. On Tuesday 1st May, Edinburgh's Salt Cave is opening its doors to the public to celebrate World Asthma Day, so you can reap the salty benefits completely for free and give the treatment a try. The charity event will also be raising money for Asthma UK on the day and throughout the month so you can do a good deed while giving it a go.
Event Details
When: Tuesday 1st May 2012 10:00- 20:00
Where: The Edinburgh Salt Cave
How: Admission and halotherapy treatment is free, but booking in advance is required. Call 0131 5101 091 to reserve your place.
The sterile micro-climate and salt covered rooms are perfect for a chill-out session with a difference, and will leave you feeling revitalised in no time – so book now before it's too late. Then all you have to do is breathe in, and breathe out…