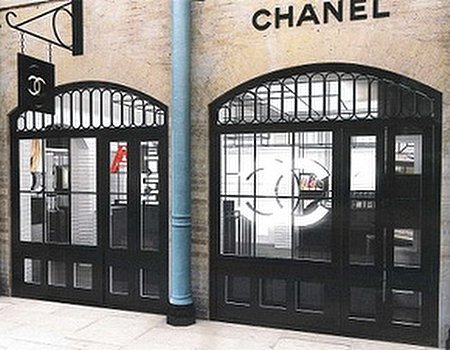 Chanel know how to do everything in perfect style, and yesterday's launch of their new pop up shop in London's much-loved area of Covent Garden was no different. Filled with all of Chanel's most coveted products and holding London's first Chanel nail bar, the 1,400 metre square pop up shop is here to stay until the end of 2012 – hooray!
While celebrities mingled around the nail bar and browsed the areas downstairs reserved for facials and treatments, customised taxis proudly worked Chanel's iconic Le Vernis range of summer shades outside in the summer sunshine. The pop up shop's windows, in a stunning monochrome design with bright interlocking CCs in the windows, showed off the full range of makeup and nail varnishes, and houses some of the world's best stylists, makeup artists and nail technicians.
To celebrate London's finest year with the 2012 Olympic Games, the pop up shop in the Old Covent Garden Market will not only be supplying expert makeup and nail art but will also be holding a series of stylish events until its close in December. There's never been a better reason to dig out your perfect little black dress – Coco Chanel would be proud...
Open seven days a week from 10am-8pm from Monday-Saturday and 12pm-6pm on Sunday (extended to 10am-8pm during the Olympics), there's never been a better time to head down and browse all the gorgeous colours on display.