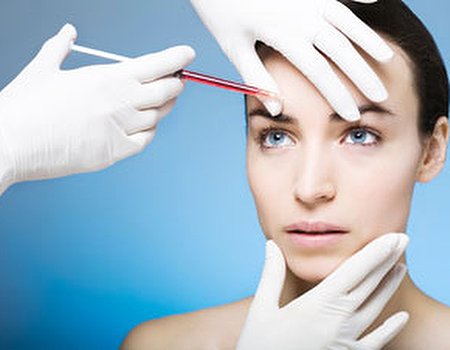 The Botox jab, which helps eliminate the appearance of wrinkles, frown lines and freeze facial muscles, is now to be offered on the NHS in England and Wales for chronic migraine sufferers. Not only a well-loved beauty treatment, this time-eraser can now be used to treat those blinding migraine attacks.
We've got to know the wrinkle-reducing injections as the wonder stuff used by celebrities to leave them looking more youthful (and sometimes a little doll-like), making Botox a top product on many people's wishlists. But while the rich kids use it to tighten the appearance of skin, it can now be used to treat muscle spasms and even stop excessive sweating when injected into the armpits.
Receiving approval from the Food and Drug Administration (FDA) in 2010 as a treatment for chronic migraines, the facial filler is injected into the face and neck to help stop the onset of the debilitating effects of migraines. Apart from the severe headache, symptoms include sensitivity to light, noise or smells, possible nausea and vomiting, visual spots or shapes and tingling sensations, including numb limbs.
With over 700,000 people in the UK suffering with migraines, this is sure to be a popular NHS treatment for those who can get it. Costing £349.40 for a 12-week cycle, you must have headaches for at least 15 days of each month, with at least 8 being classed as migraines, and must have tried at least 3 medications with no luck in order to qualify for treatment - so it's not for everyone.
Dr Fayyaz Ahmed, chair of the British Association for the Study of Headaches, said: "The medical evidence shows that Botox can provide significant benefit to patients with chronic migraine, helping to reduce the number of days disrupted by migraine or headache and improving their quality of life."
If you suffer from migraines, will you be hoping to give Botox a go?