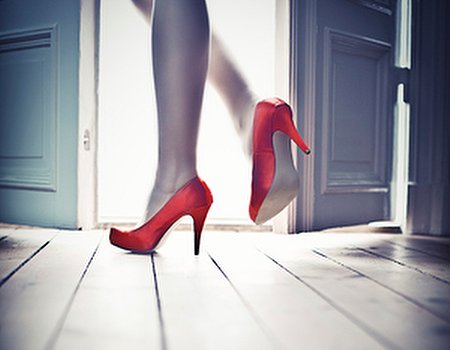 One of our favourite things about the Christmas party season is getting to wear beautiful shoes. Out come the pretty pairs that spend the rest of the year languishing at the back of the wardrobe – complete with their glitter, sequins, bows and skyscraper heels. Carrie Bradshaw would be proud of us...
Unfortunately, our poor feet don't see this fabulous footwear as a treat – in fact, quite the opposite. A recent survey by the team behind portable pedicure device Micro-Pedi has revealed that high heel hell strikes a large number of us each festive season. Did you know that:
One in five women suffer from blisters as a result of their choice of festive footwear
22% spend most of the night sitting down or taking their shoes off due to painful heels
98% of women admit to knowingly wearing heels that will hurt in exchange for looking good
Ouch – we don't think that sounds like fun. Luckily, the lovely people at Micro-Pedi have come up with some top tips to help us keep our feet looking good and feeling comfortable. Now where did we put those Louboutins...
Your pre-party pedicure
1. Massage your soles to increase blood flow and reduce any tension.
2. Soak your feet for about 5-10 minutes in a large bowl with lukewarm water. As an added treat, you may also wish to infuse the water with a few drops of essential oils or sea salts, to keep the feet smelling good.
3. Once you've soaked your feet, push back your cuticles to maintain good nail health.
4. Feet tend to dry out in the winter, so ensure you moisturise with an extra hydrating foot lotion.
5. Buff away dry, hard or calloused skin on the soles or heels with a hand-held pedicure device like the new Micro-Pedi (£39.95 from Boots or www.Lifes2good.co.uk) to leave your skin silky smooth.
6. Make sure you clip your toe nails to a sensible length, as if they are too long or too short they could cause discomfort and even become ingrown.
7. Paint your toes in a vibrant colour, remembering to use a base coat to protect the nail and a top coat to make the varnish last longer.
8. Remember to use shoe inserts such as gel cushions to support your feet and ensure your feet don't slip or rub.
9. Try to buy a shoe that has a large platform, as this will reduce the angle at which your foot is positioned, enabling you to dance the night away.
Want to follow these simple steps at home? The clever Micro-Pedi device smoothes and exfoliates, removing dry, rough and calloused skin. With a unique micro mineral roller that spins 30 times a second, the Micro-Pedi provides spa-standard results – with none of the hard work involved in using a pumice stone. Hooray!
Of course, if you feel that Christmas is a good time for pampering (and we certainly agree!) then you may want to hand yourself over to the professionals. Why not check out the great manicure and pedicure offers on our nails page? You'll be ready to don your dancing shoes in no time...