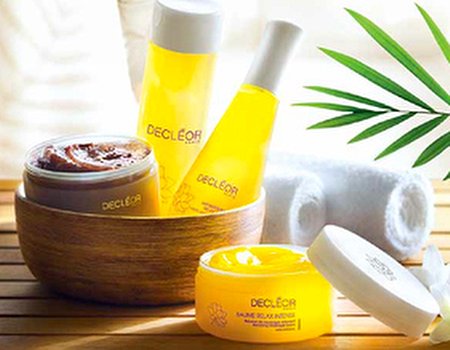 Do you make the most of your Sundays? Many people spend Sunday getting stressed about the week ahead – without really taking the time to do anything about it. If the thought of Monday's meetings regularly puts you off your Sunday roast, we reckon it could be time to start a new relaxation routine...
According to Fiona Brackenbury, Head of Training and Education at Decléor, Sunday is the perfect time to indulge in a bit of well-earned pampering. She says, 'For many, Sunday is the best day of the week to prepare your mind, body and spirit for the week ahead. Luckily, creating your own home spa with Decléor has never been easier with the launch of our new home spa range, Relax Intense'. We don't know about you, but we're cancelling all our plans this weekend...
The soothing Relax Intense products have been designed to help you recreate professional spa rituals – all in the comfort of your own bathroom. From a relaxing jojoba-based shower oil to a sensual massage balm, the range contains all you need to get you feeling refreshed and ready for whatever Monday morning may throw at you.
In need of a bit of TLC? Why not treat yourself to some of these...
Exfoliating fruit seed scrub
Containing not one, not two, but three different natural exfoliants, this hardworking scrub will leave your skin super soft and smooth. We defy any dry skin to survive the combined power of acai seeds, argan shells and fruity orange zest...
Relaxing shower oil
After you've exfoliated, it's time to jump in the shower. Decléor's innovative new shower oil turns into a light mousse on contact with water – helping you to work up a lovely lather.
Fiona says, 'The shining star from the new range is the Relax Intense Shower Oil. This shouldn't just be kept only for spa Sundays -instead use every day, morning or evening, shower or bath, to intensively condition your skin.
'When in contact with water, the Shower Oil transforms into a gorgeous satin cream that leaves the skin feeling as soft as cashmere. Perfect for the winter when the skin dehydrates, it helps to maintain a strong hydro lipidic film and thanks to the vanilla and the tonka bean it gives the skin a veil of delicate fragrance.' That's us sold...
Relax Intense dry oil
You've exfoliated, cleansed and dried yourself off with a big fluffy towel - so what next? For supple skin with a subtle scent, apply this 100% natural oil. With a fine, silky texture inspired by massage, the dry oil will melt your stress away - leaving you feeling fresh and focussed.
Relax Intense massage balm
Ok, so we can't afford our own personal masseur to knead those knots out for us every day - but we can treat ourselves to this nourishing balm. With essential oils for a soothing aromatherapy experience and cupuaçu butter to relax and hydrate the body, applying this balm will make the perfect end to the week.
We reckon the Decléor products would make lovely gifts for someone in need of a bit of relaxation this Christmas. Visit www.decleor.co.uk for more information, or browse our Christmas gift ideas to help you put together a pamper hamper.