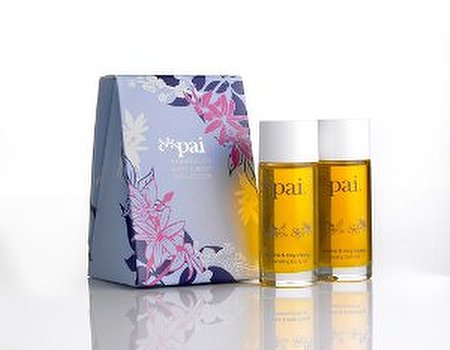 Everyone loves to be pampered at Christmas – but unfortunately, for those with sensitive skin, buying bath products can be a real challenge. That's why we love Pai – the organic skincare range that caters specifically for sensitive souls. Popular with delicate stars such as Natalie Portman, Pai delivers impressive yet affordable results without compromising on glamour. We know what we're adding to our Christmas wishlist...
With both coming in at under £20, Pai's Christmas Collections have got the festive season all wrapped up. In fact, they're such a bargain that we think it's worth bagging one for yourself, too. A home spa experience could be just the thing to get you ready on Christmas Eve...
Pai Serenity Bath & Body Collection (RRP £15.99)
Serenity is definitely what we're in need of when we're running around like a headless chicken trying to get everything ready for Christmas Day. This calming collection contains Himalayan and Dead Sea bath salts to soothe tired muscles, as well as Comfrey and Calendula cream to hydrate and regenerate the skin. Looks like the only thing in danger of being dry is the turkey...
Pai Tranquility Bath & Body Collection (RRP £13.99)
Heaven scent. The perfect pairing for an indulgent home spa experience, Pai's Jasmine and May Chang bath and body oils will soothe and replenish the skin, whilst leaving you smelling seriously sensuous. Like all Pai products, the oils are particularly kind to sensitive skin – great news if you struggle to find solutions which are right for you.
Hoping to escape from the extended family for some well-deserved relaxation, or looking for some pampering presents to give this Christmas? Visit www.paiskincare.com for more inspiration.
Alternatively, have a bit of a browse of our Christmas gift offers – you're sure to find something to suit even the fussiest of relatives. Phew...