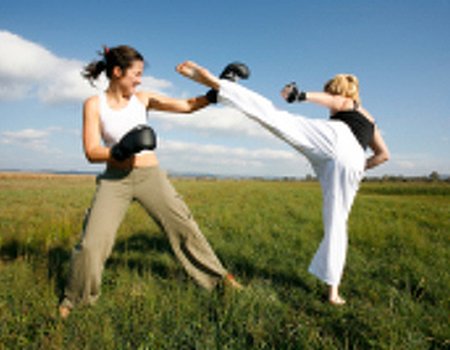 Fib: Exercising alone is enough to lose weight.
Fact: Exercise helps burn extra calories but to lose weight it is essential to engage on both, exercise and nutrition.
Fib: Aerobics exercises such as jogging, cycling, swimming, boxing, etc… are better ways to lose weight than weight training.
Fact: The combination of both types of training works better than each of them alone.
Fib: Weight training makes women look muscular and masculine.
Fact: Weight training develops body awareness, muscle tone, good posture, and elegant bodies and prevents osteoporosis.
Fib: Working out at low intensity for a long period is great to burn body fat faster.
Fact: For optimal fat burning moderate to high intensity exercises are the best.
Fib: Skipping breakfast and other meals is the best way to lose weight.
Fact: Skipping meals slows down the body's metabolism preventing weight loss.
Fib: Sweating during exercise is dirty and filthy.
Fact: Sweating is not dirty; on the contrary it is essential to keep the body cool and functioning efficiently during exercise.
Fib: Exercising early in the morning with an empty stomach is great to burn more fat.
Fact: Exercising with an empty stomach will only fatigue the muscles faster and therefore burn fewer calories during the training session.
Fib: A few units of alcohol per week will not interfere with exercise and weight loss plans.
Fact: Alcohol dehydrates the body and sabotages any weight loss and exercise programmes.
Fib: Exercising once or twice a week is plenty for health and fitness.
Fact: Exercising once or twice a week is recommended for health but not for fitness.
Fib: Performing hundreds of abdominal exercises is recommended to flatten one's abs.
Fact: Performing cardio, weight training, and postural exercises in combination with a healthy eating plan is the only way to flatten one's abs.