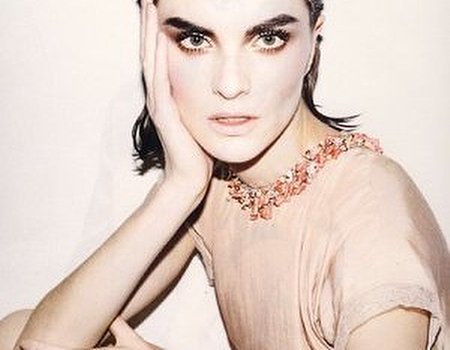 Ever since I started doing nails professionally, the natural look has always been the most requested finish for a manicure. First we moved on from the french manicure.The problem with the french manicure was the white tips were too long, too wide and too ugly and it just didn't look cool anymore, and just like fake tan and silicone boobs, the woman of style was OVER it! So then it was all about sheer pink - with Mademoiselle by Essie being the most popular choice for nearly a decade….
But here we are in 2009 and sheer pink is starting to look a bit mumsy and dated to me. Quite frankly I'm bored of it and its become a bit barbie-ish and I'm searching for the new modern natural look.
Beige is an obvious alternative as illustrated above by gorgeous Annouk in Japanese Vogue (photo credit Matt Irwin), and is definitely the most in demand colour on a lot of the shoots I do, but the general public is still not 100 % convinced when I suggest it.
I love to see nails with no colour at all which can be achieved with either buffing to a glossy shine or from a variety of protein strengtheners available on the market….The matte finish is also popular with Fashionistas. The problem here is some people are just not satisfied without a colour so I've been trying out sheer white or milky shades of cream. One of my faves is Potato Fields by Essie which gives them kind of a porcelain effect…but this colour is a few years old and I would love something new! Maybe we are going to see a return to pearlised shades, in particular I think pearlised white will come back into fashion.