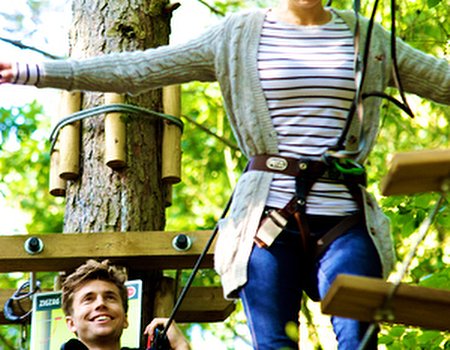 As one of the co-founders of adventure park chain Go Ape, Rebecca Mayhew is responsible for the nation's growing obsession with arboreal exercise. Before I took my leap of faith attached to a 500ft zip-line at The Outdoor Show, I caught up with her for a quick chat about fitness, forests and having fun.
What three reasons would you give to someone to try a Go Ape experience?
They can challenge themselves, it's exciting and they'll have fun. We set up Go Ape because we very much felt that we wanted to encourage people to turn "I can't" into "I can" - to prove that if you challenge yourself, you often find you can do things and, in the end, enjoy them.
What physical benefits would you say there are to working out outdoors (and in the treetops)?
I think there's a lot in just being outdoors and getting out into the forest. It puts you in a good mindset. Physically, people say they feel quite stiff after [completing the course] because there's a lot of upper body strength needed even for just climbing up a rope ladder. You're going from tree to tree, using both your arms and legs, so it's a good workout all round. I think the majority of people end up feeling a little achey and say that that they didn't realise what they were doing, but feel it the next day!
Do you get many visitors looking to overcome a fear of heights or perhaps boost their confidence?
I think we get a surprising number of people who have really had to convince themselves to come and take part. It's quite out of their comfort zone and in a way, that's even better because they are persuaded to really go for it. Then when they get to the end [of the course], they are absolutely delighted with what they've achieved.
Next season, you have a new site opening in Trent Park, North London. This is your first centre in the capital. Have you got any plans to expand elsewhere?
The Trent Park site is the first of our courses where you can actually just get off the tube (at Cockfosters) and the entrance is a two minute walk away.
We'd been really trying to look at where we could find [a site] that close to London, but saying that, 4 or 5 of our other courses are really easy to get to from central London – only an hour to an hour and a half away. We're always on the lookout and if we find anywhere else, then we'll definitely do it, but I think the nearer you get to central London, the more difficult it is to find somewhere suitable.
What do you do to stay healthy and happy yourself?
I hate gyms, but I run about three times a week, I do some biking and I've got three young kids who keep me on my toes! I live right by the sea and so I also do kayaking, sailing - all that sort of thing. Fitting it in is challenging though and recently I've been so busy that I haven't really got back into it. It's quite easy for weeks to go by, especially after the holidays.
I do love running though. The fact that it's your time for an hour or so and you can obtain complete focus. You can mull things over, away from everything, and it just makes you feel really good.
And finally, do you have any New Year's health resolutions?
For me, it's kind of more about establishing challenges and things I want to do this year. Help for Heroes is our charity partner at Go Ape and they've got something called 'Battle Back', where you bike from Portsmouth to Dunkirk (I think it's about 360 miles). There's that and a few other things that I want to get in my diary that I've got to aim for. I'm not very good at the cutting back – "I'm not going to do this, I'm not going to do that..." – it's more about having positive things to work towards.
For more information on Go Ape and their locations across the country, visit goape.co.uk