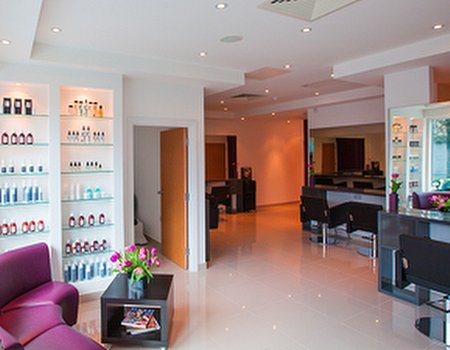 I'm not one for making things easy for myself. Case in point: exactly one month before getting married, I decided to move house halfway across London. During this month of manic last minute wedding planning and packing madness, it became clear that something needed to be done. With one week to go until the big day, my lovely colleagues shipped me off for a day of beauty treats, with strict instructions not to return until I had managed to relax…
The venue
Conveniently located Thames-side and just a stone's throw away from a well serviced bus stop, Michaela Mitoi is a smart salon that's nestled within a premium residential development.
Slightly set back from street view, the sleek styling continues inside the Wandsworth venue, with fresh flowers offsetting the clean lines and modern furniture chosen by owner, Adina.
The salon is open plan, but has been divided into distinct areas devoted to hair washing, cutting and styling. Upon arrival, I was offered a cup of tea and after a short wait spent watching the fashion channel playing on a screen above the reception desk, I made my way into the sole – but well equipped – treatment room.
The treatment
Beauty therapist Diana decided to begin with a full body massage to ease the tension I was inevitably carrying. During the 90 minute treatment, she made me feel extremely comfortable – talking, joking and giving me tips about essential oils and how to soothe my often sore muscles when I don't have time for a massage. I discovered I carry a surprising amount of stress in my calves as well as my shoulders, which duly cracked - alarming within the first five minutes. "You don't go for a massage very often, do you?" Diana quipped. "Tell your husband-to-be this needs to change!"
After almost falling asleep as the massage came to an end, Diana moved on to treat my skin. She removed my makeup, placed cool compresses over my eyes and focused a steamer a few feet from my face to open up my pores. Following a few minor extractions, she then applied organic products to help heal blemishes and calming rose oil to rehydrate areas of my oily skin that had lost moisture thanks to my over-enthusiastic cleansing. While the products got to work, I was given a head and neck massage, which left my scalp tingling. Excess oils were then wiped away, leaving my skin looking brighter and plumper.
Diana began the manicure phase of the package next by applying a Prada scrub to my arms and hands and massaging away dull skin. After wiping them down with a warm towel, she filed my nails into my requested round shape, applied a cuticle softener to my nail beds and neatly pushed back any unevenness. As I was planning to paint my nails again before walking down the aisle, I chose a nude/pink shade to minimise the risk of staining, and this was applied after a strengthening base-coat had dried. Finally, a topcoat sealed everything in, and I headed back out into the salon feeling revitalised.
My last treat involved having my hair washed and styled by Adina Mitoi herself. I was led to a bank of three basins and was pleasantly surprised when my seat was revealed to be a massage armchair.
After complimenting me on my hair's cleanliness – a surprise, since I've always thought of myself as being cursed with an oily scalp – Adina wet my locks down and thoroughly worked in a seaweed extract shampoo. Next, she applied a lightweight mask to the ends of my hair and advised me to always squeeze out excess water before applying conditioner, so it could better soak up nourishing ingredients. When my hair was rinsed for the final time, I could feel that it was lying much more smoothly and vowed to remember her tips.
I made my way to the styling area, where Adina expertly blow-dried my hair into soft waves in a matter of minutes. After a warm goodbye, well wishes for my upcoming nuptials and tips of where to visit on honeymoon, I left the salon feeling serene and truly spoilt.
The results
I was really impressed with the attention to detail and the wholly personal approach adopted by all those at Michaela Mitoi. Though unassuming on the outside, it is clear that every member of staff at this salon is determined to give customers a top class experience, and to use their years of expertise to provide advice as well as great results.
Following my treatments, my skin felt softer and my waves held up for hours longer than if I had attempted to create them myself. My manicure lasted well into the next week and two months later – now as a Mrs - I have vowed to return to the salon to keep my muscle-stored stress in check.