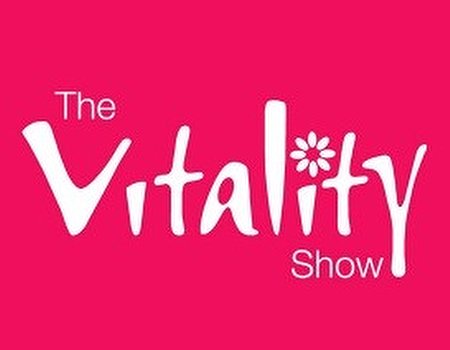 Health, beauty and happiness lie at the heart of the Wahanda philosophy, and people, treatments and products promoting all three were out in force at this year's Vitality Show at Earl's Court 2. As well as a wealth of stalls showcasing companies like Une Cosmetics and services such as boot camps, fish pedis and threading, there were demonstrations and talks galore, featuring industry experts Rosemary Conley and Dr Pixie McKenna (of Embarrassing Bodies fame).
We made our presence known by doing the rounds in a fetching Wahanda tee on Friday 25th March, but if you didn't make it down or manage to say hello, here is a round up of our favourite moments:
From chart toppers to show stoppers, the small yet skilled dance troupe proved that they could really bust a move. They managed to incorporate elements of both street and classical styles into a flurry of demonstrations, all set to a soundtrack that included the vintage-esque warbling of Christina Aguilera, the melancholy pop of Hurts and music box-like instrumentals.
Highlight: One man spinning round with another man lying stomach down on top of his head. Even more impressively, it was a strictly 'no hands' stunt.'
Zest Magazine's interactive dance classes
OK, so this is the second mention of dance, but any instructor who manages to get 20 women (and a handful of men) dancing to Beyonce's single ladies in the middle of the arena deserves a shout out. Throughout the day, belly dancing and Zumba workshops were also available and drew sizable crowds.
Highlight: One man in the Beyonce class out-strutting the ladies like a true diva. We take our hats off to you, sir.
Covering everything from make up application to confidence boosting tips, the advice and practical demonstrations on offer delivered concise and clever suggestions designed to make your life that little bit easier.
Highlight: Bitesize bits of guidance from Sarah-Jane Froom explaining how best to apply mineral make up. Seeing an expert's techniques in action was eye-opening.
Free samples on offer at the FoodLovers Fair
Far from being just grains and granola, the FoodLovers Fair was stuffed full of gourmet goodies. After sampling scrumptious organic chocolate and delicious chunks of cheese, we washed it all down with some cool coconut drink and rice milk. Healthy, hydrating and great for those who don't do dairy.
Highlight: When we discovered organic chocolate tea and quickly bagged ourselves a box. Yummy.
Tattoos, toilet tissue and trampolining
Well, we actually mean all the exhibitors that we didn't really expect (but were very happy) to see in attendance! Having a go on full size trampolines put a spring in many attendees' steps, a larger than life Andrex puppy provided photo souvenirs and hand massages for visitors to the Andrex Skincare area and we picked up a beautiful (now sadly faded) henna tattoo on our way out.
Highlight: The playful Andrex pup doing a dance whilst a Zest class was taking place
Did you attend the Vitality Show and did you manage to spot us having a wander around? Let us know about your experience by tweeting @Wahanda.