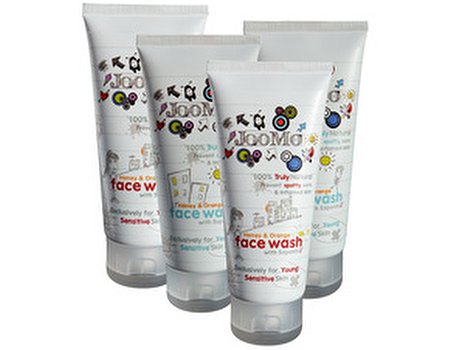 'Natural' has grown into a bit of a buzz word in the beauty world. Everything from make up to hair dyes is now plastered with chemical-free claims, but such boasts can often mask the inclusion of some not-so-green ingredients.
JooMo, a new skincare brand on the market, promises to be different. Created by former chemist Nick Wallen and Marketing expert Linda Russell, it claims to have produced the first ever 'truly natural face wash'.
JooMo's range was launched earlier this month and is aimed at young people with problem or sensitive skin. Their '100% truly natural' face washes contains SaponinJ, a skin repair system that not only deals with existing problems, but repairs the damage caused by synthetic products and rebuilds the skin's natural defences to prevent future allergies, infection and inflammation The pair's quest to create a pure formulation began in 2008 when Russell developed a painful skin allergy. Over a series of weeks, her face became inflamed and she was forced to abandon her normal skincare routine.
"My existing products seemed to hurt my face when applied, so I stopped using them. I went to the doctor's and was prescribed steroid cream – after a temporary improvement, my skin was worse than ever," she explained.
Russell's sons also began to develop skin problems as they entered their teens. After trying numerous so-called gentle and soothing products she spoke to her father in law, a doctor who suggested a regime that had helped his own mother – using nothing but warm sea salt solution on the skin.
The breakthrough
Within days the family's skin began to show signs of improvement and Russell began to research the effects of modern cosmetic ingredients on the skin's defences. Following her own family's experiences with skin irritation and after noticing that there had been a sharp rise in the number of allergies over the last 100 years, Russell and Wallen decided to look into the skin care products that were marketed as 'natural' and analysed their ingredients. They found that there was virtually nothing available in stores that didn't contain synthetic elements.
"We were determined to change things" said Russell. "We decided that it must be possible to develop an effective natural face wash which would not only help [my sons], but would help all teenagers get their healthy skin back too. The more the so called professional formulators... told us it couldn't be done, the more determined we were to prove it possible."
Using Russell's sons as guinea pigs, she and Wallen worked together (and even employed a university research team) to test combinations of natural ingredients until the SaponinJ formulation was honed. Built around a specially balanced formula of saponins, essential oils, sea salt, natural sugars, natural pH modifiers, natural antioxidants, natural softeners and emollients, SaponinJ is designed to cleanse whilst maintaining the skin's natural surface environment. This in turn is said to minimise irritation and speed up the healing response.
The findings
Having finally got JooMo onto shelves in the UK, Russell and Wallen are keen to debunk the 'natural' myth perpetuated by product packaging, and have published a list of brands guilty of talking up their chemical-free credentials. We're not ones to name and shame, but if you have supremely sensitive skin or simply want to minimise the amount of additives your skin is exposed to, here are a few of the slightly misleading labels they discovered:
Cleanser marketed as '100% plant based, pure and natural'
"This actually contains Cetearyl Alcohol and Coco Glucoside," say Russell and Wallen. "These synthetic cleaners are highly alkaline (usually pH 9-11) and therefore increase the skin pH above its natural level [a much more neutral 5.4]."
Foaming face wash which states it is made with 'wonderful natural ingredients'
"[This cleanser] actually contains sodium hydroxide – also known as caustic soda – which is used in the manufacture of drain cleaner."
Toner that promotes its use of 'naturally active ingredients'
"[This] actually contains Polyethylene Glycol (PEG), a chemical used in many products such as solvents and humectants [products that are designed to retain water]. This chemical is of particular concern because it acts on the skin by opening up pores, enabling environmental toxins like DDT to enter the body more easily."
Cleansing gel that is said to harness 'the power of plants'
"[This product] fails to mention that [it] actually contains 20 unnatural ingredients including disodium phosphate, which is also used as a food additive to quicken cooking time."
The future?
As consumers become more and more interested in just what they are putting on their bodies, brands are slowly realising that to be green, they have to walk the walk as well as talk the talk.
It seems like only a matter of time before companies will have to meet a certain standard in order to brand their products natural - similar to the system that is currently used to judge whether beauty formulas can be certified organic.
For now, brands like JooMo, Wahanda favourites Pai and Aveda, and breakthrough customisable skincare site Truth Art Beauty (where you can create bespoke product ranges from all natural, 95% organic ingredients) are leading the way. With the truly 'natural' sector continuing to grow, if you suffer from a sensitive or spot prone complexion and you haven't tried making your own remedies or giving your bathroom cabinet an overhaul, now might just be time to get skincare ingredient savvy...