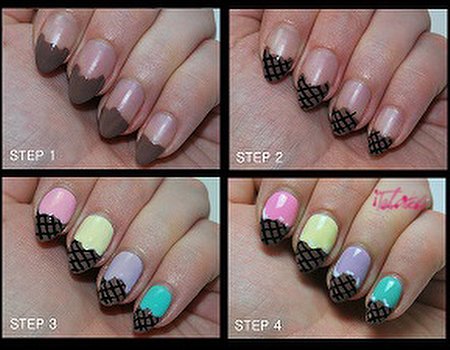 It's fair to say that we're a little bit obsessed with nail art here at Wahanda HQ (just take a look at our Pinterest boards on the subject), and with the current heatwave limiting our style options, we also think it's a fantastic way of adding some personality to your look.
After searching in vain for a polish design to compliment our summer wardrobe, we consulted beauty blogger and manicure pro Lex of Talonted. She came up with an easy to replicate, delectable design that we just had to share. Check out her step-by-step guide below...
Lex's ice cream manicure
You will need:
a few different pastel coloured polishes
a brown polish
a base coat
a top coat
two nail art pens (black and white)
You should prepare your nails before you start. A good base coat is really important as it not only means that your nail art will last longer, but it also means your polish will go on smoother giving you a more professional finish. I use Orly's Bonder (£5, boots.com) as I find it really prolongs my manicure.
Now for the nail art!
Step 1
Paint brown polish onto the tips of your nails. If your nails aren't almond-shaped like mine, just paint the brown polish in a cone shape and leave the background bare for the same effect.
Step 2
Once the brown polish is dry, use your black nail art pen (or a thin paintbrush dipped in black polish) to paint on several diagonal lines to represent the cone detail.
Step 3
Paint pastel colours on the rest of your nails – don't worry about the lines being uneven: it's meant to look like melting ice cream so it's better if it's not perfect!
Step 4
Use your white nail art pen to add highlight detail to the pastel colours. Add lines wherever the sun would catch the light of the melting ice cream!
Finish the whole thing with a great top coat. I will always be a Seche Vite girl (£9, boots.com). Shiny, quick drying and long-lasting, it's perfection in a bottle!